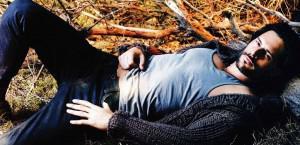 Truebies definitely got an eyeful a couple of weeks ago when Joe Manganiello's character on True Blood, Alcide Herveaux, shifted into his werewolf form to help Sookie find a (faery) drunk Eric Northman. As he unbuttoned his jeans and reached for his zipper, it became very apparent that he was going commando. And it was awesome. Access Hollywood drilled Manganiello to get the inside scoop on what really was going on under those jeans:
"We had long talks about whether werewolves wear underwear or not," Joe laughed. "[In] our character research, we decided that, no, they don't. I was actually wearing what we refer to as 'the sock' there."
Sock or no sock, we don't really care because it all looks good. But, since he mentioned it, what is the deal with the sock? It's been rumored that certain actors (Alexander Skarsgård) on set prefer to go sock free and let it all hang out, so is there any truth to that?
"Before I got on to the show, there were actually people on the show who didn't wear the sock. But, I guess for health purposes we all have to wear the sock."
Health purposes or safety purposes? When working with real-life wolves that weigh upwards of 175 pounds, we can imagine that being completely naked with them could be a bit disconcerting. Manganiello agrees:
"Here's the thing, when the wolf is present and they bring them out on big thick chains… My brother jokingly said he was gonna sneak into my trailer and switch out my sock for a sausage casing," Joe laughed. "But there's literally a trainer standing in back of me, waving raw meat at this thing to get it to look at me… and I'm naked."
Oh, to be a wolf on the set of True Blood…
Source: Access Hollywood – Joe Manganiello: 'True Blood' 'Teasing' A Romance For Sookie & Alcide
Photo Credit: Vanity Fair Magazine