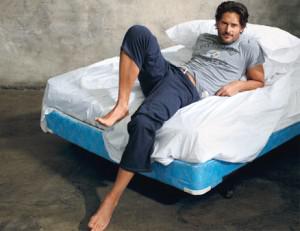 Since joining True Blood in season 3, Joe Manganiello has set tongues wagging as the ridiculously attractive – and incredibly good – Alcide Herveaux. And, like us, we're certain a lot of you Truebies have pined after the 35-year-old Pittsburgh native, who admits he's a traditionalist when it comes to dating:
"Being a guy, it's all about planning and the setup. I don't think I'd ever let a girl pick up the tab…The best times are when you're sitting on the couch, and you look over and you're like, Wow, I love her."
From the sounds of some of the spoilers circulating right now, it looks like Truebies will get to see another side of Alcide in season 5. Exactly what that side is remains clouded in mystery, but we're certain there are no sides of Alcide that aren't smoking hot.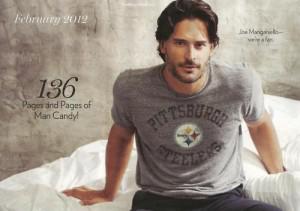 Source: Glamour Magazine – Man Candy: 6 of the Hottest Guys of 2012 – Joe Manganiello: the Hot Werewolf
Photo Credit: Simon Burstall