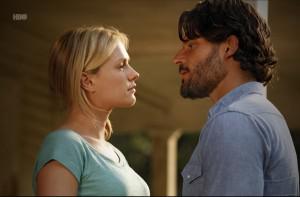 Joe Manganiello recently sat down with Parade Magazine to talk about his brawny character Alcide Herveaux, as well as dish a bit on whether we can expect to see some Alcide and Sookie (Anna Paquin) action. Check out some highlights from the interview below.
What are some of his favorite moments playing Alcide?
"I love the moments where I get to play the werewolf and do some sniffing and tracking. Last year I loved cooking my steak and going off to eat it without a fork. I love all of those little werewolf moments. I incorporated growling into Alcide's character: If he didn't like something, he'd growl."
Will we see any werewolves interacting with Marnie (Fiona Shaw) and her coven?
"The witches' actions and troublemaking trickles down to all the residents of True Blood. With that said, this year, as far as the werewolves are concerned, it's more about shapeshifters and werewolves getting along."
Can we expect any epic battle scenes?
"Definitely. I got to do a lot of my own stunts this year, which was fun. There is one fight scene in particular that I can't wait for to air so I can send it to the Pittsburgh Steelers organization. I can say that."
Will Alcide and Sookie grow closer romantically?
"All I can say is that you can look at one of the new posters and intuit that he's still interested in Sookie. Very much interested. So just glancing at a poster quickly, you can definitely tell that. But aside from that, all I can say is that his life is very complicated [laughs]."
Click here to read the interview in its entirety.
Source: Parade Magazine – True Blood's Joe Manganiello Talks Season 4 Romances and Battles
Photo Credit: HBO