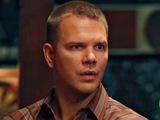 Hoyt Fortenberry (Jim Parrack) has had a rough Season 4.  First Hoyt gets beat up outside Fangtasia, he's lost his mother and now he's lost his girl.  In the last episode Jessica (Deborah Ann Woll) broke up with him and she went running to Hoyt's best friend Jason (Ryan Kwanten).  One of the consequences of the blood bond that formed when Jessica healed Jason was a sexual connection between the two and it seems inevitable that the two will hook up but how will Hoyt take this?  Parrack sat down with NY Mag and talked about the relationship between Hoyt and Jessica, that sex dream between Jessica, Hoyt and Jason and his new film 'Sal'.
Parrack says he knew Jessica and Hoyt were headed for trouble when they moved in together.  He says the fact that his mother wanted to kill his girlfriend and the whole food issue didn't help the couple stay on track.  Probably one of the biggest contributors to the end of Jessica and Hoyt was Jessica feeding Jason to help him heal.  Since then there has been a simmering attraction between the two and that resulted in a rather steamy dream.  As the dream progressed however, Hoyt took the place of Jessica right in the middle of riding Jason and that's when things got weird.  So what did Parrack think about that scene?
"I still haven't seen that, but to play the cowgirl straddling my buddy? [Laughs.] That was a very interesting scene to shoot, to say the least."
Parrack goes on to say that we will see a darker side to Hoyt once Jason and Jessica hook up.  He says that Hoyt has essentially lost everything and the two people that mean the most to him are those two.  Once they betray him there is no telling how Hoyt will react.  When asked if he thinks Hoyt could take Jason in a fight, Parrack replies that there are so volatile moments coming up and that it will not be pretty.  Sounds like things are going to keep getting more interesting with this triangle! 
Parrack also talked about his upcoming film 'Sal' which will be premiering at the Venice Film Festival and was directed and co-stars his real life best friend James Franco saying:
"There's some great material. It's amazing to me that Sal Mineo was getting nominated for Oscars [for Rebel Without a Cause and Exodus] but then when he came out as a homosexual, he lost everything. Val Lauren plays Sal, and he is going to fucking blow people's minds. He is going to break your heart and make you fall in love with Sal — how he kept his dream alive, how he wasn't bitter, how he wasn't blaming anyone, up to that last tragic moment. I play Keir Dullea, who was the lead actor in 2001: A Space Odyssey, and he and Sal were doing a play together, P.S. Your Cat is Dead, and they were in rehearsals when Sal died. Basically, Val and I learned the play: We rehearsed it as our characters would, with James playing the director of the play, and that's what we shot, in three 45-minute takes."
Parrack says he didn't speak to the real life Keir Dullea to get any tips on how to portray him because he wanted to go with his instinct on the role rather than having his work influenced.  The film is garnering a lot of buzz and while it is premiering at the Venice Film Festival later this month, no official release date has been set.  To read the entire interview with Jim Parrack click here. 
Source:  nymag.com – True Blood's Jim Parrack on his Character's Dark Side, Working With James Franco and Riding Jason Stackhouse
Photo Credit:  HBO, Inc.