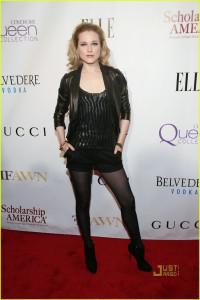 True Blood's Evan Rachel Wood (Queen Sophie-Anne) looked incredibly bad ass at the Mary J. Blige Honors Concert on Sunday, May 1st.  The concert, hosted by the Foundation for the Advancement of Women Now (FFAWN), was held at the Hammerstein Ballroom in New York City.
The proceeds from the concert help benefit college bound young women, and last year's concert raised enough money to send 25 young women to school on full scholarships. For more information about FFAWN click here.
Source: Just Jared- Evan Rachel Wood: Mary J. Blige Honors Concert!
Photo Credits: Featured Image, Getty
Article Image-Rob Kim, Getty