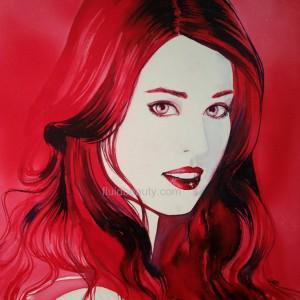 If you want to have a signed piece of True Blood's Deborah Ann Woll (Jessica Hamby on the HBO show), then you'd better get in quick according to her Facebook page!
There is now less than three days left to bid on a stunning piece of artwork by Steve Cleff (you can find more of his work on fluidbeauty.com). The eBay auction is being held to help raise money for a charity that is always dear to Deborah's heart; choroideremia. Since her boyfriend suffers from this condition (which causes blindness), she has tirelessly worked at raising money for this illness.
So head over to eBay now and start your bids here.
Let us know if you bid, or if indeed, you are the winner, in the comments below.
Sources: Facebook – Deborah Ann Woll's Fan Page
eBay – Original Portrait signed personalized by Deborah Ann Woll, star of True Blood
FluidBeauty.com – Portrait of Deborah Ann Woll auctioned
(Photo Credit: Steve Cleff/FluidBeauty.com)