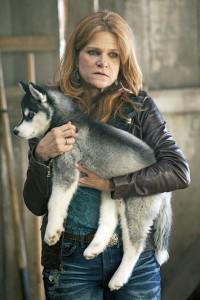 Dale Dickey, who plays the role of Martha Bozeman on HBO's True Blood is a busy woman.  IMDB reports that she has eleven projects on the go in addition to appearing in Season 5 of True Blood.  According to Digital Spy she has added a 12th role her to resume although details are scarce.  Dickey has been cast as Mrs. Davis in the much anticipated 'Iron Man 3′ film alongside Gwyneth Paltrow and Robert Downey Jr.  No information is available about her character and all Dickey had to say on the subject was:
I'm filming now. That's it.  They asked my agent not to put anything in the trades when I was cast over a month ago, so they are trying to keep as much mystery as possible.
'Iron Man 3′ hits theaters May 3, 2013 in the United States so I guess we will have to wait to find out more!  In the meantime you can catch Dickey in the season finale of True Blood on August 26th and in any of the other twelve movies she has coming out.  For more information about which movies Dickey will be in, click here to go to her IMDB page.
Source:  DigitalSpy.ca – 'Iron Man 3′ Casts 'True Blood' Actress Dale Dickey
Image Credit: HBO, Inc.