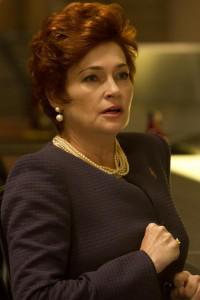 Carolyn Hennesy, who plays Vampire Authority Member Roslyn on HBO's True Blood, did the Star Review in Life & Style Weekly where she gave her opinion on television shows and movies.  First up she was asked which shows she has to turn off.  She replied:
"Anything with 'Jersey' in the title. The actual state is gorgeous, but these shows give it the worst possible name. The absolute dregs."
Next up Hennesy was asked what the best movie she has seen lately is.  Her answer was 'Midnight in Paris' because she can identify with the idea that you are never satisfied in your own era. 
Finally they asked what the last DVD she rented was and Hennesy's answer was 'Donnie Darko' which she rented from Netflix.  Her one word description of the movie was 'Stunning'.
Source:  LifeandStyleMag.com – True Blood Star Carolyn Hennesy Won't Watch Any Shows With 'Jersey' in the Title
Image Credit: HBO, Inc.