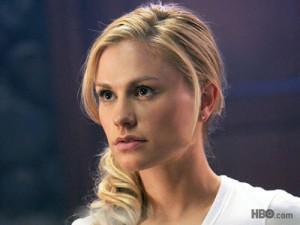 Anna Paquin is keeping quite busy on her hiatus from HBO's True Blood.  The actress, who plays Sookie Stackhouse on the hit show, is currently filming 'Straight A's' with Ryan Phillippe and will go straight into filming of 'Free Ride', before heading back to start Season 5.  'Free Ride', written and directed by Shana Sosin, is set in the 1970′s and centers around an abused single mother who moves to Florida to make a new life for herself.  In addition to starring in the film, the project marks the first project for Paquin's production company SCAMP.  Paquin will be joined by Cam Gigandet (Twilight), Drea De Matteo (The Sopranos) and her True Blood co-star Brit Morgan (Debbie Pelt).  Production will begin later this month in Sarasota, Florida and a release date has not yet been set.
Source:  Collider.com – Cam Gigandet Joins Anna Paquin in FREE RIDE
Photo Credit: HBO, Inc.