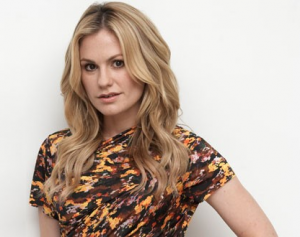 Free Ride is about Christina — played by Anna Paquin – an uneducated, single mom who leaves an abusive relationship and moves to Florida "to make a life for herself."  To support her 15 and 7 year old daughters, Christina starts selling marijuana.  The writer and director, Shana Sosin, says the film is "my homage to the end of innocence in America as well as a love letter to my sister and mother" because the film is based on her own childhood.
The film will be Sosin's first film featuring major stars.  Along with Paquin, Cam Gigandet (Easy A, Priest, Burlesque and –most notably– the villainous vampire from Twilight) will play Paquin's love interest.  Drea de Matteo (famous for her role as Adriana la Cerva in HBO's Sopranos) will play the character that gets Paquin to sell marijuana in the "colorful yet turbulent culture of the late 1970s."  She chose Paquin because, "there's something very raw and real about Anna's performances and person; she's retained that rawness my mother had."
Speaking of raw and real, the film is being shot in Sarasota, Florida and will use locals in smaller roles.  Sosin is looking for "rough around the edges with long hair and very tan" types.  "The kinds of guys who would work on fishing boats and bikers with handlebar mustaches."  Mark Famiglio, executive director of Sarasota Film Festival who will be providing the crew facilities, proclaims "Shana and her crew are exactly the kind of talented, creative people we want to work in this area. They represent the new wave of independent filmmaking and exceptional storytelling."
Truebies: shooting starts in November, so remember to keep your eyes out for the release of Free Ride and support Anna, et al, when it debuts!
Source: Bradenton.com - Anna Paquin Film to be Shot in Sarasota
Photo: Stylist Magazine UK