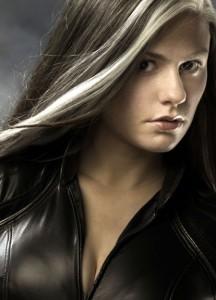 Before Anna Paquin was famous for starring as Sookie Stackhouse in HBO's True Blood, she was also known for her movie roles. Anyone who watched and loved the X-Men movie will recall Paquin as the character Rogue.
While Anna didn't make the cut in the second X-Men movie X-Men: First Class, WetPaint.com has just recently announced Anna Paquin will reprise this role for the upcoming movie X-Men: Days of Future Past. The cast will include, besides Paquin, several actors from both of the previous movies. Patrick Stewart, Sir Ian McKellen, Ellen Page, Shawn Ashmore, James McAvoy, Michael Fassbender, Nicholas Hoult and Jennifer Lawrence are all confirmed as cast for X-Men: Days of Future Past.
Who else can't wait to see Anna Paquin and her funky hairdo again?
Source: Wetpaint.com - Anna Paquin Goes Rogue Again! True Blood Actress Will Reprise Role in X-Men: Days of Future Past
(Photo Credit: 20th Century Fox)