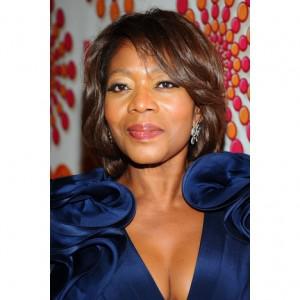 Alfre Woodard made a splash on True Blood Season 3 when she appeared as Lafayette's mentally ill mother, a role which earned her an Emmy nomination.  Now she will be taking all that wonderful talent to the hit show 'Grey's Anatomy'.  Shonda Rhimes, the woman behind 'Grey's Anatomy' tweeted the following recently:
"Had a GA table read today — forgot to take photos with my phone to tweet! But it was great! ALFRE WOODARD is guest starring! So excited!"
Woodard will appear in Episode 8 as a famous novelist who will be treated by Derek and Lexie.  'Grey's Anatomy' airs Thursday nights at 9:00pm on ABC.  Check your local listings for details. 
Source:  Wetpaint.com – True Blood's Alfre Woodard to Guest Star on Grey's Anatomy
Photo Credit: Getty Images