Alexander Skarsgard, who plays our favorite viking vampire Eric Northman on HBO's True Blood, talked recently with Arcade Fire lead singer Win Butler for Interview Magazine about the dangers of getting typecast in Hollywood.  Skarsgard says he receives a lot of scripts from producers for roles that are essentially Eric with a few small changes.  For an actor who enjoys being challenged, playing the same character over and over does not appeal to Skarsgard.  He says that every role he takes on does reflect a part of him in some way:
"In a weird way, I always play myself, just through different mirrors.  If I read a script and I don't connect with a character, if I can't find the character on the page in my soul, then I'm not going to be able to do a good job."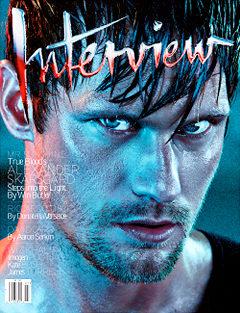 At the same time he admits that he finds it a little frustrating when people cannot separate him from the characters he plays, including producers.  Skarsgard wants to feel nervous and excited about a role and not get locked into that mysterious bad guy image.  He says:
"There's got to be something new, something fresh.  I want to almost be intimidated when I embark on a journey. I wouldn't say there's a fear, but I do get slightly nervous in the beginning when that happens, and I like that feeling. That triggers me a lot."
We definitely love seeing Skarsgard in many different roles!  His film Melancholia premiered at the Cannes Film Festival, his remake of Straw Dogs hits theaters in September and his alien invasion film Battleship hits theaters in 2012, so we will get to see several sides of him.
Source:  nydailynews.com – Alexander Skarsgard Talks To Win Butler in Interview Magazine, Discusses picking roles and nerve
Photo Credit:  Steven Klein/Interview