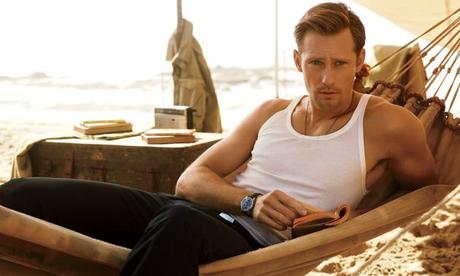 Alexander Skarsgard, who plays Viking Vampire Eric Northman on HBO's True Blood has several projects on the go.  His film 'Melancholia' is set to premiere at the Cannes Film Festival, he is busy filming Season 4, his remake of 'Straw Dogs' comes out in September and his alien invasion flick 'Battleship' will hit theaters next year.  Skarsgard was tapped to appear on the cover of GQ Magazine for the month of June and is looking particularly fine in his photo spread.  In the interview that he does we get a glimpse at his down to earth nature and the dynamic between him and his father Stellan Skarsgard.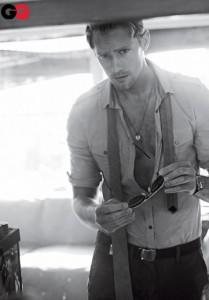 The GQ interview was due to take place on a whale watching tour and the interviewer called Stellan in Sweden to ask him a few questions.  When he found out where the interview was going to take place, the elder Skarsgard joked:
"Ever since he went whale-watching, he won't stop talking about it. Everybody has to go! It's a plague!"
We know that Alex's fellow castmate Kristin Bauer van Straten has been really involved with the Save The Whales campaign so it would be easy to assume that she is responsible for his whale watching obsession.  Apparently this is not the case.  Even as a child Alex loved hearing stories about whales and he used to force his parents to read him a story from a picture book about a whale every night before bed.  When asked what it is that draws him to these majestic creatures he says it is the way they move with such "calm confidence" despite their size.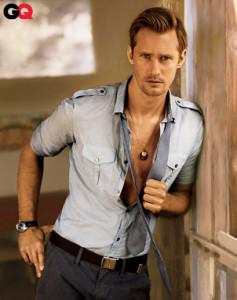 HIS CHILDHOOD
Although he grew up with a famous father and had a taste of stardom at a young age, Alan Ball describes Skarsgard as "the least actorly actor I've ever met".  A lot of that has to do with growing up in Sweden where things are more reserved and private.  He jokes that you will never see a reality show about the Skarsgards.  Too bad we would love to see that!  Skarsgard visits home as often as he can with his busy filming schedule.  A typical day when he is in Sweden includes the Roll Out, where Stellan and any kids that are at home take the family matriarch Gudrun in her wheelchair to a local beer hall.  Gudrun has a few drinks and then Stellan spends the afternoon cooking before they all gather for dinner and wine. 
Growing up Stellan says that Alexander was full of energy and was constantly on the move.  After his taste of fame, the younger Skarsgard never imagined that he would act again.  Instead he took a bit of a different path and did a stint in the Swedish military.  Of course the military there is more symbolic than anything since they have not engaged in combat in over 300 years, but even though it would have been easy for him to get out of the "mandatory service", Alex still chose to serve.  None of his brothers or his father served but about his time in the service he says:
"It was my way of going off into the unknown.  I didn't want to just be somebody's son."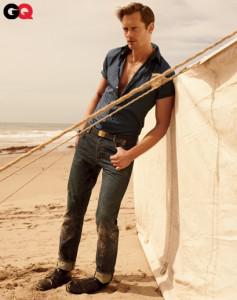 HIS FAMOUS DAD
Although both Alex and his father are successful actors, the two had never worked together until the upcoming 'Melancholia'.  When Lars von Trier offered him a role in the movie he told his agents to make it happen.  He will play a groom who is getting married while a planet is on a collision course with the earth.  Stellan will play Alex's best man in the film.  When asked if he considers himself in competition with his dad he replies:
"I don't think I came to acting to compete with my father. But, you know, he wasn't around as much as normal dads, and seeing his passion…Maybe it was a way to get his attention.  I mean, if anything, we're trying to take care of him. He's over the hill."
When Stellan is asked the same question he jokes:
"Of course I'm threatened.  They're younger, they're better-looking, and they're all trying to kill me."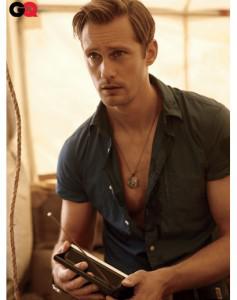 TRUE BLOOD
Talk turns to True Blood and the intense scenes between Sookie (Anna Paquin) and Eric.  Fans of the Sookie Stackhouse novels know that the fourth book is a turning point in the relationship between the two and although we can't be sure Alan will take the exact path the books did, we can expect plenty of hot scenes.  GQ asked Alex how that works on set given that Paquin's husband Stephen Moyer is also a member of the cast and he replied that all is well on the set.
"It's really clear to Steve and to everybody else what the deal is—which is that Anna is like a sister to me.  Those love scenes take quite a bit of acting, actually. A lot of acting."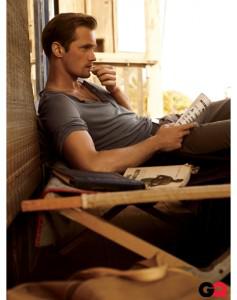 STRAW DOGS
As we reported to you here, Skarsgard will be appearing in a remake of the 1971 film 'Straw Dogs' which hits theaters in September.  In the original film Alex's character Charlie was a cut and dry bad guy.  The director Rod Lurie says that Skarsgard wanted to make the character more complex and make this more of a love story.  Fans of True Blood know this already but Lurie says "you should see women react to him on-screen. Their mouths hang open."  This change in the character should make the film's already controversial rape scene, even more climactic.  The scene took two days to film and Lurie describes it as brutal and raw to do.  Stellan saw a clip of the scene as it was being put together in the editing room and his reaction?
"He proclaimed it 'the best rape ever filmed.'"
Some may wonder about Alex's variety of roles - a vampire, a groom in a wedding, a washed up football player and then a naval officer in the upcoming 'Battleship' but its all part of being a great actor to him.  Right now he feels fortunate that he has the money coming in from True Blood so he can afford to be picky about the roles he takes.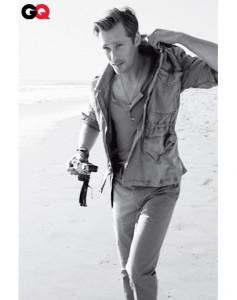 One thing is evident in all of his work – Skarsgard takes acting very seriously and he seems to have a genuine love of the craft.  You can read the full article in GQ Magazine by clicking here. 
Source:  GQ.com – Alexander Skarsgard – GQ June 2011 Cover Story
Photo Credit:  Carter Smith/GQ Magazine