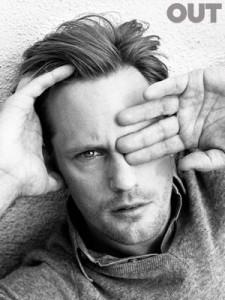 True Blood's Alexander Skarsgård (Eric Northman) has been very busy during his hiatus from the hit HBO show.  Between doing press for 'Straw Dogs', attending film festivals to promote 'Melancholia' and filming back to back movies in New York, before he knows it that break will be over and he will be back filming Season 5!  Skarsgård and fellow Swede Jonas Åkerlund, who directed the Lady Gaga music video that Skarsgård appeared in, recently spoke with Out Magazine about the differences between Americans and Swedes, the success of their fellow countrymen in Hollywood and why Swedish people have more sex.
Both Skarsgård and Åkerlund are pleased about the explosion in popularity of Swedes, from author Stieg Larsson, musical groups ABBA and Ace of Base; and actors Skarsgård and his father Stellan Skarsgård, Lena Olin (Alias) and Malin Åkerman (Couple's Retreat).  Skarsgård says he is happy to see more Swedish filmmakers breaking in to Hollywood because one reason he left Sweden to pursue his career there was that "young interesting filmmakers" didn't get a chance back home.  When asked what they think sets the Swedish people apart from other people, both agree that sincerity and a lack of flashiness help to set them apart.  Skarsgård takes this further saying:
Even if you have money in Sweden, it's frowned upon to show off. In L.A., you see all these people driving around in yellow Hummers and wearing rhinestone dresses, and they live in fake palaces. Ingvar Kamprad, the founder of Ikea, was riding around in a beat-up old Volvo from 1980 until just a couple of years ago.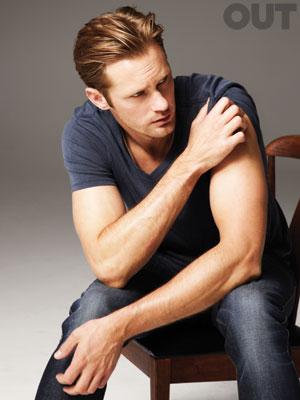 Skarsgård then talks about how tame True Blood is by Swedish standards, while in the United States it is seen as dark and sexual.  He says he still finds it weird when parents get so upset if their child sees a nipple or a butt cheek on tv but they have no problem with their kid watching someone beat someone else's head in with a baseball bat. 
The two then go on to discuss their theories on why Swedes are so liberal with their sexuality saying:
Åkerlund: That's the boning season. [Laughter] And then it's spring, and that's also boning season. And summer's the best boning season.

Skarsgård: And that's also why we're so liberal and so cool with our sexuality — because we fuck a lot [laughter].

Åkerlund: How much time can you spend playing the drums?

Skarsgård: When you're bored, just have sex.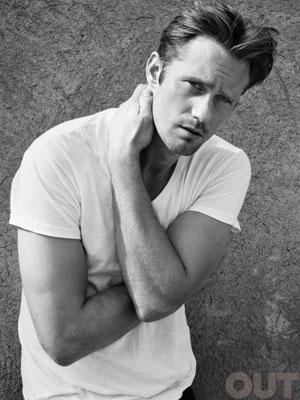 To read the full interview with Skarsgård and Åkerlund click here.
Source: Out.com – Alexander Skarsgård vs. Jonas Åkerlund
Photo Credit: Out.com