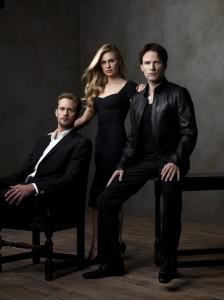 And so they are to meet the sun…
The vampires, under an intense spell cast by the spirit of Antonia and some fellow witches, were desperate to burst free from their protective silver chains and greet the daylight. Poor Jessica made it to the door, even though Jason made a mad dash to save her. Sam realized exactly what made Tommy so sick… and he was not happy about it. Debbie questions Alcide's feelings for Sookie, Tara hurts Naomi to protect her, and Sookie refuses to let Eric meet the sun.
Anybody else sad that we're more than halfway through the fourth season?
Below is the soundtrack used in episode 7 of True Blood's fourth season, "Cold Grey Light of Dawn."
(Songs marked with a [*] are available for purchase at HBO.com)
Steven Casper and Cowboy Angst – Where You Are
Pam tries to kill Tara outside of Merlotte's. Naomi struggles.

The Black Angels – Yellow Elevator #2*
Plays on the boom box while Debbie and Alcide are in the woods.

Patti Scialfa – Town Called Heartbreak*
Naomi and Tara sit in their truck outside Merlotte's. They may be breaking up.

Alejandro Escovedo (feat. Bruce Springsteen) – Always a Friend*
Jason fantasizes about Jessica. Hoyt comes home and Jason feels awkward.

Steve McComb – Come See Me*
Sam visits Luna.

The Shake – Dyin' Ain't the End of the World*
Sam and Luna talk at Merlotte's and things are starting to change.

Scott Hall – Send Mary a Letter
Alcide and Debbie are in bed.

Nick Lowe – Cold, Grey Light of Dawn
Plays over end credits.
Source: HBO.com