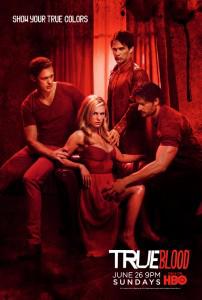 In an episode that put Pam in a tizzy over Eric's erased memory, and left Jason helpless as he was forced to breed werepanthers, we have a solid music list to back it all up. Alcide reappeared for the first time this season, but with Debbie by his side. And Bill's professional relationship with Portia Bellefleur expanded to a sexual relationship, at Portia's request. Tara protected Lafayette and caught up with Sam. And Marnie sacrificed her own blood, offering herself as a vessel for another spirit.
Below is the soundtrack for the third episode of season four, "If You Love Me, Why Am I Dyin'?"
(Songs marked with a [*] are available for purchase at HBO.com)
J. Novak – The Wreck of Us
Pam feeds on Jethro at Fangtasia.

Boxing Gandhi's – If You Love Me (Why Am I Dyin)*
Lafayette, Tara and Jesus have a beer and discuss their next move regarding Eric.

Ohio Sound Machine – Montgomery Moonlight
Sookie visits Alcide.

Michelle Malone – Restraining Order Blues*
Tara enters Merlotte's and asks Sookie to talk to Eric. Sam comes over.

G. DaPonte – Nowhere
Sam and Tara talk at Merlotte's.

Astrud Gilberto (Thievery Corporation remix) – Who Needs Forever*
Upscale restaurant, Bill leaves Eric a voicemail; Portia Bellefleur rejoins him at the table and they discuss the nature of their relationship.

Dave Pezzner – Child's Play
In Fangtasia's basement, Pam speaks with Lafayette about Eric's memory issues.

Karen Elson – Season of the Witch*
End credits.
Source: HBO.com – True Blood Music