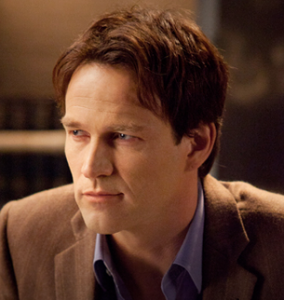 After last week's "one year later" catch-up, we were treated to stories from the past and the present. Bill's underground punk days in London in the 80′s reveal his history with Nan Flanagan, the main vamp behind killing Queen Sophie-Anne. Sookie is fighting Eric for control of her house, but Eric is not in a fighting mood. After all, he built himself a hidey-hole. Jessica is acting out from the difficulty of her home life and Sam's new interest Luna reveals she can shift into a lot more than a horse. Poor Jason was chosen to breed with Crystal (on account of Felton's infertility), but he's got to become a werepanther first. Ouch.
Long list of music in this episode. Below is that very list, from episode 2 of season 4, "You Smell Like Dinner," along with the correlating plot point, courtesy of HBO.
(Songs marked with a [*] are available for purchase at HBO.com)
Zack Tempest – Dominatrix
Pam emerges from Fangtasia.

Flying Lotus and Thom Yorke – And the World Laughs With You*
Lafayette and Jesus are in the kitchen late at night.

See Spot Kill – Trash This Place*
(London, England Early 80′s). Bill is at an underground punk rock club looking for someone to feed on. He chats up the bartender Marcus.

John Etkin Bell & Mike Farmer – Lift Off
(London Punk Flashback continues). Plays at the underground club with Bill and Marcus.

John Etkin Bell & Mike Farmer – Make Some Noise
(London Punk Flashback continues). Outside the club, Bill feeds on Marcus.

N/A – A Life On the Ocean Wave*
(London Punk Flashback continues). Drunks sing at the bar. Nan Flanagan talks to Bill about "mainstreaming" vampires.

Tom Heyman – Fat City*
Sookie is back at work at Merlotte's.

Eric Corne – Trampolines*
Sam carries booze to the office at Merlotte's. Luna is waiting for him.

Kanude – Wheels-Part One*
Tommy and James think Luna is pretty.

Craig Campbell – Family Man*
Jessica decides to drive over to Fangtasia for some excitement.

DJ Acucrack – Clown Darker*
Protesters are outside Fangtasia.

DJ Acucrack – Coming Down
Jessica walks in slow motion towards her prey.

Jenny O – Well OK Honey*
Tara calls Naomi. They miss each other.

N/A – Shoot First
Sookie goes into the girls room at Fangtasia to find Jessica.

Jinx Titanic and the Super 8 Cum Shots – You Smell Like Dinner*
End credits.
What song will you download?
Source: HBO.com – True Blood Music
(Photo credit: HBO, Inc.)