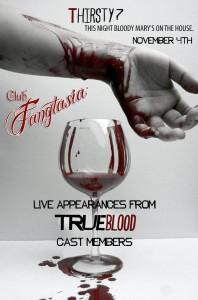 So, you've heard me mention it time and again here on TrueBloodNet. Club Fangtasia is being hosted once more by the fabulous crew at the Seamus O'Tooles Irish Pub in Melbourne, Australia.
While the first two events were truly spectacular, this year promises to top all current expectations! But you need to get in quick as the very last 20 VIP tickets and 20 General Admission tickets have been released. Go to the Club Fangtasia website here if you want to snap a few up!
So what's new?
This year there are True Blood celebrities – yes you can meet some of the actors that make the show so darn HOT! 
Spectacular prizes are on offer. Want a piece of your fave True Blood star? Then this is the best bet you have of winning it for nothing more than the purchase of your ticket
An all day event has been organised by First Contact Conventions called Full Blood and will include a day of True Blood activities. (Check here to see if tickets are still available)
Personalised autographs (of the celebrities attending the Halloween party) can be purchased at Seamus O'Tooles from 2-4pm on Saturday the 3rd of November (the day before the event)
True Blood auctions – bid on personal True Blood items belonging to the stars of the show! All proceeds will go to the charities of the celebrities choice – a win-win situation for all involved
True Blood merchandise – buy bottles of Tru Blood and Merlotte's T-shirts among other great items
Fangtails: Tru Blood cocktails – need I say more?!
Oh, and, I will be interviewing the celebrities!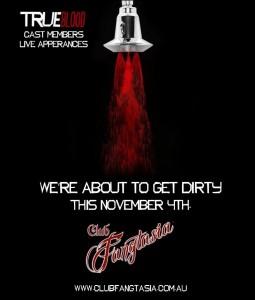 So, who are these celebrities that I will be chatting to for TrueBloodNet? Well, as per the recent email sent from Club Fangtasia headquarters, it was announced that Pam (Kristin Bauer) has been summoned by The Authority and can no longer attend. Holly (Lauren Bowles) has unfortunately been caught up in one of her very own wiccan spells and will not be released in time, which means she will no longer be attending either. But there is still a super line up to keep even the most avid True Blood fans happy!
Replacing Pam is the fabulous Tommy Mickens (Marshal Allman), which is sure a fantastical feat since he was killed in a previous season! Luna (Janina Gavankar) has also graciously decided to replace Holly and is shape-shifting into a bird as we speak in order to make it to Australia before the 4th of November. Jesus (Kevin Alejandro), Lafayette's brujo boyfriend is also confirmed as attending – his whole body and not just his head! And, finally, Ginger, AKA the screamer, (Tara Buck) is confirmed as well. Let's just hope we can hear the music over her blood-curdling wails!
Want me to ask the celebrities a question on your behalf? Then let me know in the comments below and I'll see what I can do.
Make sure you check back here regularly in order to view the exclusive TrueBloodNet video interviews with the stars of True Blood as well as my recap of the Club Fangtasia Halloween party!
Sources: Club Fantasia - Website & email newsletter
First Contact Conventions – Full Blood
Rachel Tsoumbakos – True Blood Halloween Blog
(Photo Credits: Garth O'Hehir/ClubFangtasia.com.au)