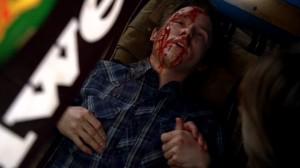 Last Sunday's episode of True Blood, entitled 'Burning Down The House', saw Sam's troublesome brother Tommy (Marshall Allman) dying on a table in Merlotte's.  While Tommy had his problems, fans couldn't help but feel sorry for him since he clearly never had much of a shot in life.  In the end, he died a hero after he skinwalked and took a beating that was meant for Sam, ultimately saving Sam's life.  True Blood executive producer and writer Alexander Woo talked with HollywoodReporter.com about the decision to kill off Tommy and how his death will impact Sam.
Woo says that they decided to kill off Tommy the way they did because they felt they needed to redeem him:
"Despite all the terrible things he does, we always felt he had a good heart on the inside.  He has done so many things that have hurt others and hurtful to himself, but ultimately we thought it was important to emphasize the basic humanity at the bottom of that character."
According to Woo the decision to kill off a character is never easy but he points out that this is show about vampires so there will be deaths along the way.  He says that the heart of the show is the core group of characters in Bon Temps, so when they kill off a secondary character the focus is on the impact that death has on the core group.  Speaking of the core character, Woo is asked how Tommy's death is going to impact Sam.  He replies:
"Sam has a lot of heavy stuff to deal with. He went out in search of his family. And because he went out if search for his family, they're all dead, which of course is quite a heavy burden for him to carry and it's something he's going to have to come to grips with."
Several people have hinted that the casualty list of the last few episodes of Season 4 is quite long and when asked if we will see more characters dying before the season is out, Woo says:
"Yeah… How about that? No one is safe. Essentially, the vampires and witches are going to war and it's not going to be a war without casualties."
We can't wait to see what they have in store for the next two episodes!  Below is a clip of Tommy's death if you missed it, or just want to see it again.  Let us know in the comment section which characters you think will not be back for Season 5.
Source:  HollywoodReporter.com – True Blood EP Alexander Woo Discusses Sunday's Dramatic Death
Video Credit: YouTube.com – BWQBClips
Photo Credit: HBO, Inc.