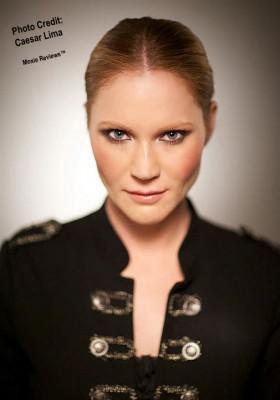 Her True Blood alterego Ginger could probably care less about animal welfare, but for Tara Buck respect for the world we live in is high up on her list. Recently Tara did a photoshoot for Younglood Mineral Cosmetics and she told Moxiereviews.com why.
I love cosmetics, skin care, makeup etc., but I also love animals. When I realized that a majority of the products that I was rubbing all over my face on a daily basis were from companies that perform cruel tests on animals I felt sick. Even before researching what exactly happens in that testing I could guess it wasn't, "does this cream make that bunnies feet really soft, or it's hair shiny?" No. I was immediately thinking about sensitive eyes and what happens when specific ingredients are ingested. Common sense right? Cruel testing on animals feels terrible no matter what, but for human vanity? That's really disgusting.

There are a growing number of really great companies that are ethically conscious. Youngblood is my personal favorite. I love the way it looks on my face and feels in my heart. Perfect!
How do you stay in such great shape?
I really enjoy being outside. I love to hike, ride my bike, go running. Recently I started lifting weights as well. It's incredibly boring but I can tell I'm getting stronger. That feels like a real accomplishment.
Fashion style on weekends?
Usually simple draped blouses, a good pair of jeans and flip flops. Someone just gave me a pair of turquoise jeans. I keep finding reasons to wear them again and again. I love when that happens.
Favorite charities?
The Amanda Foundation

It's a "no kill" shelter for cats and dogs in LA. This amazing organization is dedicated to keeping orphaned animals safe while they wait for a new adoptive family.
Fans know that you do a lot of screaming on the set of True Blood; when did you scream for real recently?
I was gardening and I discovered a dead critter. It really caught me off guard. My fiancé came running out of the house at the same time my neighbor rushed over. Hysterical! Contrary to what people probably think I don't usually vocalize my fear. That's sort of a true blood exclusive.
Read the complete interview here