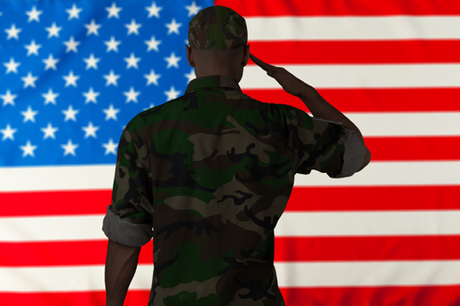 In the hunt for a steady stream of new drivers and workers during the driver shortage, transportation and logistics companies should seek out employees like Michael Raley. As a job candidate, Raley had such attributes as leadership, dependability, loyalty, attention to deadlines and detail, and a knack for working well under pressure.
These traits should come as no surprise, as Raley spent 20 years in active duty in the U.S. Navy, retiring as a petty officer first class and recruiting manager in 2007.
Today, he's a recruiter with Ryder System, Inc. in Dallas / Fort Worth – a perfect fit for an armed forces veteran looking for a new career – and a company in need of his skills.
"For many veterans, the military is the only career they've ever known," Raley says. "They're not just looking for a job, they're looking for a career. That's what the logistics industry offers."
As the transportation and logistics industry honors its own during "National Truck Driver Appreciation Week" from Sept. 13-19, veterans play an increasingly vital role in the industry. Whether behind the wheel, behind a desk, under the hood, or – in Raley's case – in the recruiting office, thousands of veterans from the Army, Navy, Air Force, Marines, Coast Guard, Reserves, and National Guard have found their next careers in the logistics industry.
For many veterans, careers in the transportation and logistics industry is no mystery, while many aren't aware of the opportunities that exist. For example, some 35 percent of the 150,000 members of the Owner-Operator Independent Drivers Association are veterans, yet less than one percent of Americans serve or served in the military. Maybe, the industry and veterans just need a bridge to facilitate an introduction, says Bill McLellan, CEO with @FASTPORT LLC, in Lowell, Mass. The company's JobMaps™ online application helps match drivers with thousands of commercial carrier jobs as part of the firm's support of the U.S. Chamber of Commerce's Hiring Our Heroes initiative and the American Trucking Association's push to get 100,000 veterans hired.
"Our technology can help educate, motivate, inspire and get hired veterans to fill the shortage of 40,000 drivers," says McLellan, who approached Ryder to launch the application for the trucking industry in 2014. Ryder is one of 12 logistics industry companies participating in the program.
McLellan recently attended a hiring fair at Fort Benning in Georgia to talk with active-duty military personnel planning their transition out of – and life beyond – the armed forces. They found that his application also helps facilitate introductions between "mentors," or veterans now working in transportation and logistics and those hoping to find employment there. The come to realize a career in logistics might be a fit.
"Many veterans were front-line supervisors, leaders of men and women who know how to keep them accountable and the importance of safety," says McClellan, himself a former Marine Corps sergeant and mortar man. "There's not a lot of jobs for former mortar men, but these are skills directly transferrable to trucking."
Ryder's commitment to hiring veterans took a decided turn around 2011 when the company partnered with Hiring Our Heroes, says Patrick Pendergast, Sr. Director, Recruiting with Ryder System Inc. The company has since hired more than 3,000 vets in a variety of roles, and will hire another 1,000 this year.
The alignment of skills and core values make for "a very natural fit," he says. More importantly for both the vets and the dozen partners in the Hiring Our Heroes initiative, transitioning veterans quickly are learning that logistics is a career with ample opportunities for advancement.
For its part, Ryder and several other companies have created a Transitioning Fellowship program in partnership with Hiring Our Heroes and the Department of Defense. The classroom-based program, which began in May at Fort Hood in Texas and Fort Campbell on the Kentucky-Tennessee border, will help transition new hires into their new roles with the companies and prepare them for civilian life in a corporation.
Ryder also is developing a "buddy" program to pair veterans already employed at the company with new veteran hires. This added layer of support can help ease the onboarding process and transition to civilian life. The company hopes to have a buddy at every Ryder location by this Veterans Day.
"By welcoming and easing the transition of veterans entering the workforce, once the transition is complete, the logistics industry gets employees with lower turnover and all the skills and traits any employer would want," Pendergast says.
"Whether they saw military combat, were stationed abroad, or worked on a base or location stateside, veterans all share attributes essential to the logistics industry," he says. "They are an excellent talent source for any industry."