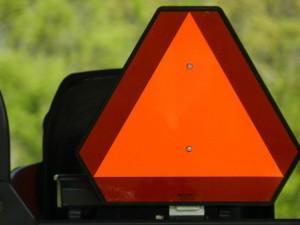 A truck and car accident Wednesday night has left a 37 year-old man of Seymour, Tennessee injured as a result.  The accident occurred around 9:30 p.m. on Interstate 74 near Oakwood, Illinois.
The Tennessee truck driver was driving a tractor trailer truck and struck a car and then overturned.  The accident happened on the eastbound side of I-74 and the road remained closed until around 6 a.m. this morning.
Information form the Illinois State Patrol stated that a 28 year old man of Westville was outside his Ford car because it had engine trouble.  The Ford was parked partially in the passing lane on the left shoulder according to the article.
The semi-truck trailer driver apparently did not see the car in time to avoid hitting it and struck the rear bumper of the car.  The semi-truck then continued through the median and tipped on the driver's side. The truck driver had to be extricated from the truck and was taken to Carle Foundation Hospital in Urbana where he is listed in good condition this morning.
Truck accidents on interstates are frequently very serious in nature and often fatal.  In this accident, it appears the driver of the Ford was either not in the vehicle and was not struck.  Time and time again, we read or hear about stranded vehicles on the interstate that are hit by trucks and/or passenger cars resulting in tragic injuries and death.  Breaking down on an interstate is particularly dangerous and even more so at night when other motorists have a hard time seeing stranded vehicles.  The obvious problem—-you cannot always control where your car becomes stranded! Or where you end up with a flat tire!
If you become stranded on an interstate or a busy roadway, there are some things you should do immediately:
Pull off the roadway if possible. If you are unable to pull off the road, do not stay in your car.
Call 911 to alert them of your position and problem.  In most situations, a highway patrol officer will be dispatched to assist you primarily to alert traffic of a stranded car in order to attempt to avoid accidents and injuries.
Move your car to the far side of the shoulder if at all possible.  Obviously, the further your car is from the lanes of traffic, the better and less likely to cause an accident. Sometimes, you cannot move your car, so calling emergency assistance right away is critical.
If you need to get out of your car, exit on the side away from traffic. Do not stand behind or directly in front of your vehicle as you risk being struck by drivers who might not see you.
Alert other motorists by turning on emergency flashers, no matter what the weather conditions and if you have a bright scarf, light jacket or bright handkerchief, you may try tying it to your antenna or door handle or hold it in place by closing it in the window
Carry reflective items in your trunk and use them to warn other motorist. Most car supply stores carry reflective signals to carry in your truck
.Always carry a flashlight–it is helpful to warn other motorists and to light your way when if you have to get out of the car
Many authorities are now recommending that you get out of your stranded car if you can do so safely and move away from it until emergency personnel arrive.
Never Pull Your Car to the Side of the Interstate for Anything Other than an Emergency
I remember as a kid, my dad would pull over on the side of the road to do a number of things, including administer discipline to me if I was not behaving correctly. But as I remember, that was never on a busy interstate.  You should never just pull over onto the side of an interstate for anything other than a vehicle failure.  Take the nearest exit and pull over. I cannot tell you how many tragic cases I have had where someone was hit when they pulled over to the side of the interstate for car trouble. The most disturbing stories, however, have involved when they were trying to remove their children from the back car seat and were rear ended. It is the stuff of a parent's worst nightmares!
Interstates Around St. Louis
Just about anywhere you go across St. Louis, you will more than likely get on an interstate.  While we are very familiar with interstates, we sometimes forget how dangerous they are with cars often traveling well in excess of 60 miles per hour.  Semi-truck trailers weighing over 80,000 pounds and traveling 60 mph cannot stop very easily and do not maneuver well around cars that change speed rapidly or stop.  When visibility is low, it only increases the likelihood that you could be hit if you are on the side of the roadway.
We are so glad to hear that no one was critically injured in the above discussed truck accident. From reading the article, it sounds like the truck driver tried evasive measures by driving into the median including crashing through a concrete barrier.  Investigations will certainly determine the placement of the Ford and the roadway and visibility for the truck driver and factors involved causing or contributing to the crash. When cars are pulled over on the side of the roadway on a hill or around a curve, it can be difficult for other motorists to see them.  Motorists that are stranded do not choose to be, but we all need to be aware of the how dangerous this situation really is and be ever vigilant for stranded cars, motorists assist vehicles and roadway workers on the sides of our interstates and roadways. And each of us need a plan should we become stranded.  More often than not, we do not plan for these kind of emergencies with the idea that it will not happen to us, but invariably it does.
If you have been involved in an injury causing accident:
If you have been involved in a truck accident or a car accident and were seriously injured, then you may need legal representation. At The Cagle Law Firm, we are expert truck accident attorneys.  Find more information about our firm via our website allinjuryattorney.com We understand the importance of thorough investigations and examination of physical evidence and  witness statements. If you are injured in an accident, you would like to think that you will be compensated fairly by the liable insurance company, however, if there is any dispute of fault or if your injuries are serious, it may be difficult to obtain the compensation that you need and deserve without an attorney.  Case evaluations and consultations are always free at our firm–you can reach us locally (314) 276-1681 or toll free (800) 685-3302 seven days a week.