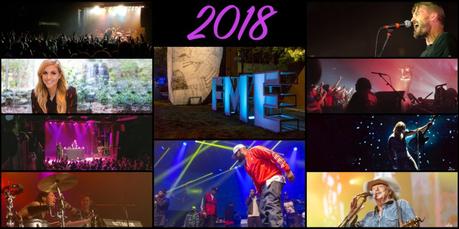 Moments and memories, 2018 has been full of them. It's been a hell of a year.
As the year comes to an end, it's time to take a look back and reflect on the opportunities that have been placed in front of me.
2018 has had no shortage of moments, the hard part will be narrowing down the list. Some stick out in our minds more than others, so instead of trying to number them, I'm listing the top moments and memories of 2018 in chronological order.
Crown Lands
This band. This music. These guys.
Watching their success unfold has been my absolute pleasure. Crown Lands caught my attention when I first saw them in Toronto at Rivoli opening for American Opera. This somewhat unlikely pairing was a coup for me, and I haven't looked back. I feel like Crown Lands was instrumental in turning my eye back to rock music, period. I'm grateful for that. It's been a good year for rock music and Crown Lands. In the last twelve months, they've toured with some of the biggest names in the business, meeting their heroes and sharing some bucket list stages with acts like Jack White, Coheed & Cambria, Primus and more.
When we chatted with the guys before their Horseshoe set, I found out that thereviewsarein.com was the first outlet to ever write about the band. That's pretty cool in my books and that moment will always be in memory.
Big things are coming, and I can hardly wait to see what 2019 brings for these talented, hardworking musicians.
This slideshow requires JavaScript.
This slideshow requires JavaScript.
Matt and Kim with Monowhales and Goodnight, Sunrise - Monday, May 7th - The Phoenix
Kicking off Canadian Music Week is no small feat, and this lineup was filled with positive energy that rocked from note one.
In 2016, we did a preview Q&A with Matt and Kim who were scheduled to play WayHome. Sadly, because they played a late night set at the festival, we didn't get the chance to see them live then. But, let me say that I was blown away by this act live. The energy and connection with the audience is incomparable. Those are the most important things for me at live shows, if I feel you, you win.
This was also the first day that we met MONOWHALES. We had the opportunity to chat with Sally and Jordan, before the show, and their excitement was contagious. Once the band hit the stage, they had me. A live show is more than delivering your songs as recorded and Sally won the crowd over quickly. With a crowd dive over the barricade to end the set, she cemented her place in people's memories. It was spectacular and ballsy. MONOWHALES has become one of my favourite bands this year, and this performance played a big part.
Also on this bill was Goodnight, Sunrise. I first saw this band in December of last year, and I was impressed by their energy and unique sound. They've continued to work hard, and that hard work was rewarded this past year by being selected as the band to open for Bon Jovi at the Air Canada Centre.
This slideshow requires JavaScript.
This slideshow requires JavaScript.
This slideshow requires JavaScript.
Mad Caddies - Tuesday, May 8 - The Mod Club
There's a weird thing that happens when, as a music journalist, you get to interview a band or an artist that you've been a fan of. I've been listening to Mad Caddies for longer than I care to admit, so to get the chance to interview Chuck Robertson was kind of surreal. To dial the phone and have Chuck answer was very cool. We chatted about the upcoming album, tour and his fondness for Toronto. And when Mad Caddies came to Toronto for Canadian Music Week, I was there for their sold-out show at The Mod Club.
This particular story is a significant one for me because not only did I get to cover this band, that means so much to me, I also met a charming, remarkable human being in the process. My hat is off to Melanie Kaye of Melanie Kaye PR who became very, very important to me, not only professionally, but personally, as the year progressed. She's a gem and has opened doors to fun, exciting bands and experiences for our outlet. I expect we'll be making memories together for years to come.
This slideshow requires JavaScript.
Lindsay Ell - Thursday, May 10 - The Phoenix
This particular memory also made Joshua's list. Lindsay Ell made quite an impression on both of us on May 10th. Lindsay was charming, unassuming, friendly and eager to share her story with us. I hovered in the background during our interview taking photos and when I was done, Joshua motioned me over so that Lindsay could tell me that she liked the photo I'd taken of her while she was performing on the main stage at Boots and Hearts in 2016. It was a lovely gesture.
The day just got better as we covered her set at The Phoenix and got to watch her do her thing. There's something about her that I can't quite put my finger on, but she touches my heart. That night there were full out rocking moments, but there were also moments that brought tears to my eyes. Lindsay Ell is a star and an amazing human. These things are the reason this day will be in my memory forever.
This slideshow requires JavaScript.
Joey Bada$$ - Friday, May 25 - The Phoenix
For those of you who are regular readers, you'll know that I've been a giant fan of Joey Bada$$'s All-Amerikkkan Bada$$ album. The music, the message and the delivery, all speak to me. So when tickets went on sale, I grabbed a pair. When show day arrived, we were not approved, but I was still there, up front and centre at the sold-out show.
To this day, I get goosebumps thinking about this show. A man and his DJ, owning the entire venue. It was spellbinding, and while I didn't get shots of Joey for our outlet, I did get to feel the energy and witness as everyone in attendance sang along to every song. It was magical, and sometimes it's nice to just be a fan.
Alan Jackson - Saturday, August 11 - Boots and Hearts
Alan Jackson is a legend of country music. As a photographer, having the opportunity to shoot a legend has it's own level of excitement, but this moment was more than that. Standing in the photo pit with many other photographers, and friends, I was hit with memories of my mom who was a giant Alan Jackson fan. There was a moment during his pre-performance video where I knew that my mom would understand that this was big and that she'd be proud of me. Moments and memories, don't get any better than that.
Mr. Jackson then proceeded to deliver a great performance, which in and of itself, was memorable.
This slideshow requires JavaScript.
FME - August 30 - September 2
FME 2018 was a festival that brought a lot of firsts and with that, a lot of memories. This was my first time on a charter plane for work, (yes, there were Almost Famous jokes told) it was the first time a festival took such good care of me, it was the first time I travelled in a pack of music journalists, and it was the first time that I realized that I'm a music journalist. I know that might sound crazy but up until this festival I didn't really put two and two together.
If you've never heard of this festival you should check it out. It's located in the beautiful city of Rouyn-Noranda on Osisko Lake in the Abitibi-Témiscamingue region of Quebec and when the festival starts, the city is transformed. The locals are the best and embrace the influx of music lovers. There were interviews and live performances all over the city, but all within walking distance of our hotels. Acts of all genres performed and I really hope I get to go back. If you're looking for a festival to add to your summer, consider FME.
This slideshow requires JavaScript.
Keith Urban - Sunday, September 9 - CCMA Awards
First, let me say that being approved to shoot the red carpet and the awards show is a memorable moment all on it's own. Having Keith Urban show up on the red carpet as a surprise guest was mind blowing. He was, as you would expect, gracious and the consummate professional. He made sure everyone on the carpet got their angle and took his time chatting with fans and taking selfies.
One of my favourite shots of the year came later in the evening, during his live performance. It's a moment in time and one I haven't seen anywhere else. I like this shot so much, it now lives on the back of my MacBook.
This slideshow requires JavaScript.
Wu Tang Clan Reunion - Sunday, September 30 - Rebel
Sometimes the hip hop gods smile on us. On September 30th I made the trip to Rebel to shoot Wu Tang Clan. I had previously shot Wu Tang at Riot Fest, but all members weren't present. This time around, we had the honour of shooting all of the living members of Wu Tang coming together to play their 1993 debut album, 36 Chambers in its entirety. It was unreal and fantastic. This show was one for the memory banks.
This slideshow requires JavaScript.
Oddisee - October 26 - The Mod Club
One of the perks of this job is access to shows, but sometimes, as a fan, you just want to watch. When I work a show it's a completely different mindset. Don't get me wrong, I do still get to enjoy shows that I'm working but during the first three songs, my brain is somewhere else. I often couldn't tell you what the first three songs were when I come out of the pit.
Oddisee is an artist that I didn't want to miss a single second of, so I bought a ticket. I went to the show with other people, but I sat up in the balcony by myself. I wanted to be focused on just the music. There were gentlemen on either side of me throughout the set who were also alone. We were there for the music. The last time Oddisee came through Toronto, he brought a full band, Good Compny. This time, it was him and a DJ and it while it was different, it was no less amazing.
If you're a hip hop fan, and you haven't heard this artist, I highly recommend giving him a listen. I've included the videos I took that night below. I still watch those videos and remember how I felt. Enlightened and joyous.
When Oddisee comes back, I'll be there.

2018 was amazing and here's hoping 2019 is even better!