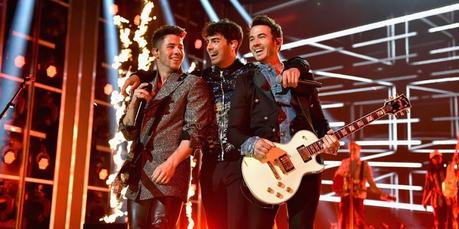 Unless you're living under a rock, you'll know that last night was the 2019 Billboard Music Awards. They took place in Vegas at the MGM Garden Arena.
The show ran close to 3 hours and they did a great job of keeping things moving. One of the people responsible for that was Kelly Clarkson and her opening medley made my list.
Let's get started.
The Jonas Brothers - Jealous, Cake By The Ocean, Sucker Medley
This is my top pick of the night. Amazing energy, great outfits and I love the whole JoBro entourage. The energy they're putting out is pure love. And if you haven't heard, Joe Jonas and Sophie Turner tied the knot last night right after the show!
That's it kids, they're all taken!
BTS - Boy with Luv Featuring Halsey
This number was too much fun. I also want to shout out Halsey's solo performance earlier in the night. It was on fire!
Kelly Clarkson Medley
Opening the show with a medley of the hottest songs of 2018. Amazing, fun and classic Kelly. What a way to kick off the show. It's no wonder they asked her back.
Paula Abdul Medley
This moment is more about Paula's dance moves. Just as I was starting think, well this is okay, she blew my mind. The drop, the flip flop and then the pyramid collapse. Holy crap! This was epic.
I haven't found a full version of the medley yet, but I will keep looking. If you find it, please let me know!
Drake's Final Acceptance Speech for Top Artist - He Thanks His Mom
Come on! He thanked his Mom. It was sincere, and after winning 12 awards last night, and breaking the all time record for Billboard Music Awards, Mom was due.
Cardi B Winning Top Rap Song
Pretty much Cardi being Cardi and I love her for it.
Honourable Mention goes to Madonna and Maluma's performance complete with holographic dancers.
Full list of Billboard Music Awards 2019 Winners
ARTIST AWARDS
Top Male Artist:
Drake - WINNER
Post Malone
Travis Scott
Ed Sheeran
XXXTentacion
Top Country Male Artist:
Jason Aldean
Kane Brown
Luke Combs - WINNER
Top Country Female Artist:
Maren Morris
Kacey Musgraves
Carrie Underwood - WINNER
Top Country Tour:
Luke Bryan
Kenny Chesney - WINNER
Shania Twain
ALBUM AWARDS
SONG AWARDS