A perfect epitome of glamour, style, popularity, attitude and art, Michael Jackson still rules our hearts. His legacy lives on and continues to inspire beyond his grave. Jackson's upbeat voice not only echoed worldwide, but also his struggle to stardom motivated us to never give up on your dreams.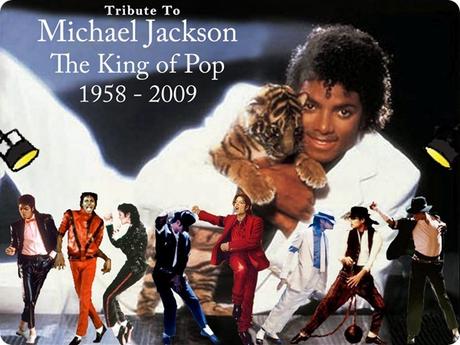 From childhood to adulthood, his exponential path to success can be summed up by Harriet Tubman, "Every great dream begins with a dreamer. Always remember, you have within you the strength, the patience and the passion to reach for the stars to change the world."
Let's chronologically review the inspiring life of the "King of Pop":
Childhood:
Born on August 29, 1958, he was eighth eldest of ten children. His parents, Joseph Walter Jackson and Katherine Esther Scruse, were an African-American working class family. They all lived together in a two-bedroom house in Gary, Indiana.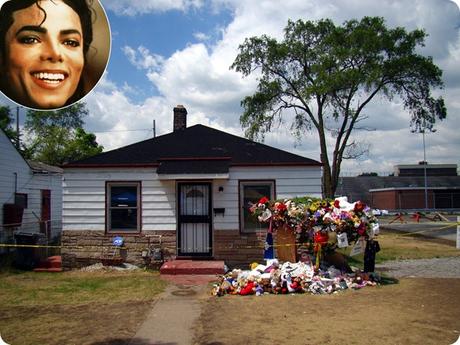 He accepted in an interview that his childhood life was painful, including a troubled past with his father. Michael Jackson admitted publically that his dad whipped him regularly as a boy for such reasons as having a bigger nose. He acknowledged his youth was isolated and aloof.
Career:
American singer, songwriter, record producer, dancer and actor, Michael Jackson started working at a very young age. He live debuted on stage with his elder brothers Jackie, Tito, Jermaine and Marlon as a member of The Jackson 5 in 1964, and began a solo career in 1971. In 1980s, he became a dominant personality in popular music. Music videos, 'Beat It', 'Billie Jean', and 'Thriller', were applauded for breaking down racial barriers and transforming the medium into an art and promotional tool. MTV, relatively new at the time, gained fame and fortune due to his super hit songs. Jackson popularized difficult dance techniques, including 'Robot' and the 'Moonwalk', (names given by him). His distinctive sound and style has influenced many Hip Hop, Post-Disco, contemporary R&B, Pop, and Rock artists. The 1982 album 'Thriller' became the bestseller album of all time.
Achievements: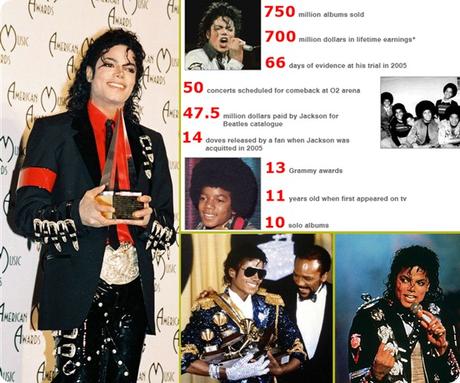 Jackson's impressive albums and music videos, 'Off the Wall', 'Dangerous', 'Bad', 'History', are ranked world's bestselling albums. Best of all, he was inducted to the 'Rock and Roll Hall of Fame' twice. More specifically, Michael was inducted to the Songwriters Hall of Fame and Dance Hall of Fame, and the only dancer from pop and rock music. He received multiple Guinness World Records, 13 Grammy Awards, Grammy Legend Award, Grammy Lifetime Achievement Award, 26 American music Awards (highest for any other artist), 13 No. 1singles in the United States and sold over 450 Million records worldwide.
Limelight:
Besides his invaluable art and top most chartbusters, he was always in limelight due to his personal life. Michael Jackson's behavior generated controversy and changed of appearance became common topics in everyday conversations. He was also accused of child sexual abuse, but soon after, his accusations were terminated, becoming acquitted on all counts. Throughout his lifetime, he was said to bleach his skin. He was even accused of using treatments to lighten skin color. Sources say he wanted to appear more of a European descent. However, the reality was completely different. In an interview   with Oprah Winfrey, he admitted he had an autoimmune disorder, Vitiligo, losing pigments from certain parts of his skin and creating white patches. Jackson stated the color of the skin does not matter, and its best if people focused on his music and enjoyed dance performances. He is certainly a bolder celebrity, who didn't hide his problems under the rug, but rather openly accepted and lived with utmost pride. He strongly believed in 'Beauty is skin deep'.
Jewelry and Style:
Michael Jackson had a distinctive fashion and jewelry style. Though, many pop stars and fashion divas have tried to imitate his style, they could never compare to the King of Pop. He was a great fan of gold, and we could see his eternally famous jackets full of golden ornaments. More than anything else, his artistically gold decorated jackets were responsible for adding a touch of sparkle and razzle-dazzle to his live concerts. Another fascinating jewelry accessory Jackson used most was statement-necklaces. They complemented and complimented him in every way, and he is still copied worldwide today. His inspiration, personality and style will live on for generations.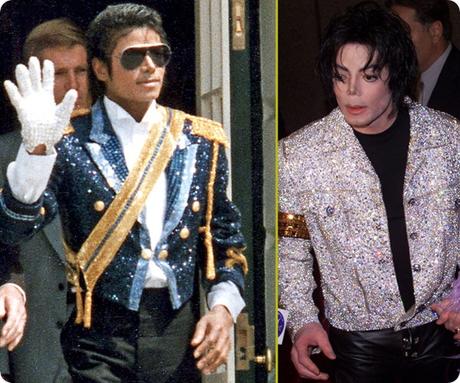 The bold rings on his fingers had additional charm, mesmerizing us.
Let us take a closer look at Michael Jackson's love for gold:
1) The gate of Planet M was covered with a real 24K gold leaf.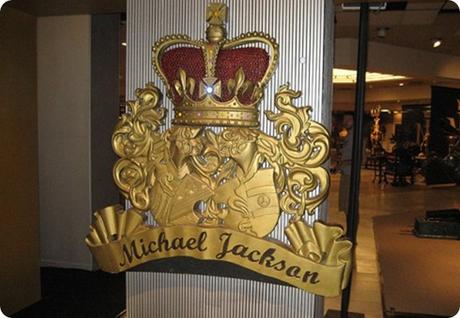 2) Have you ever heard of a gold plated coffee machine? MJ had one!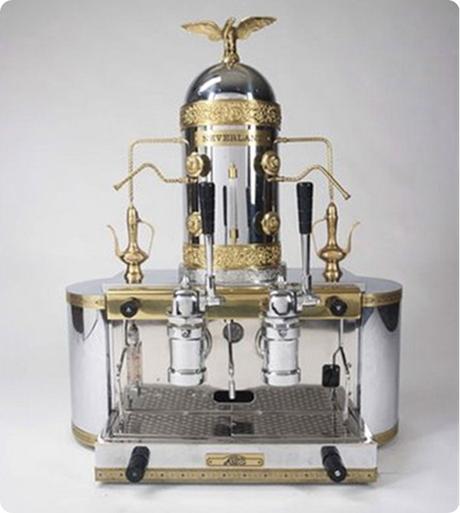 3) Michael's gold statue: We can say 'Star Wars' was his inspiration.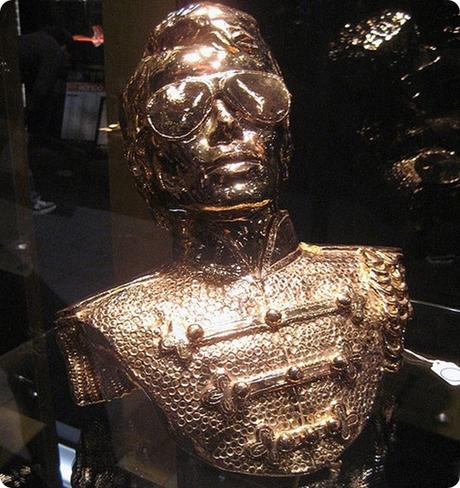 4) His self-portrait painting is perfectly framed in gold.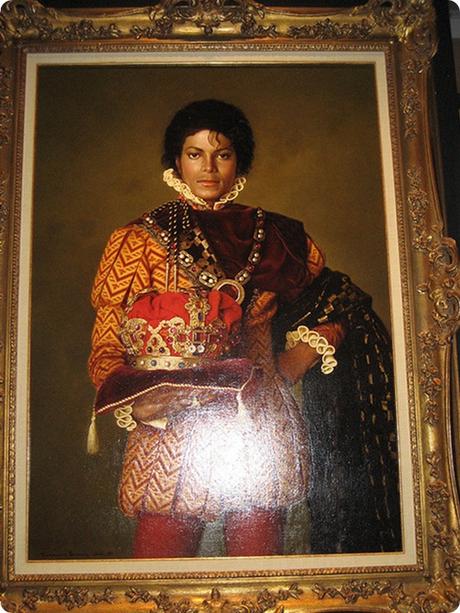 5) Michael Jackson's Royal Cloak had a golden brooch!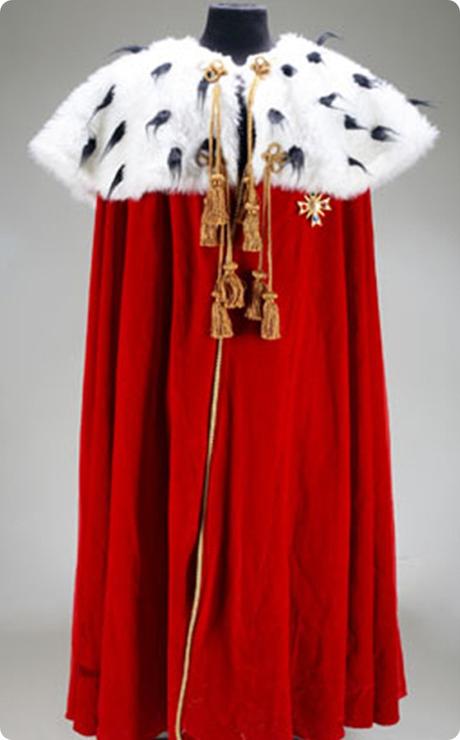 6) MJ took his stardust and Royal status quite seriously. Look at his yellow gold throne! It certainly is impeccable, isn't it?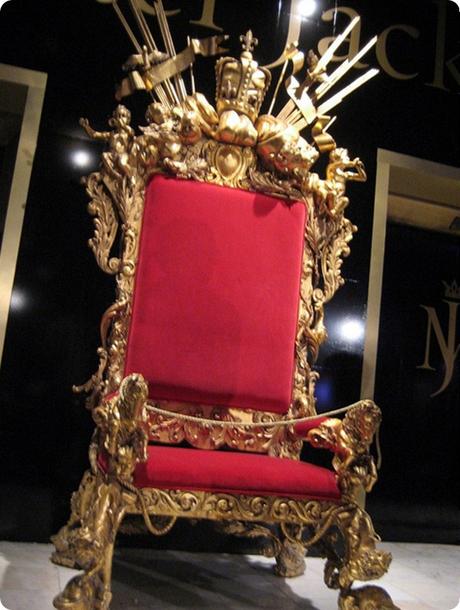 7) Our beloved pop star owned shimmering gold crowns and jewels, enough to rival Queen Elizabeth's Crown jewels!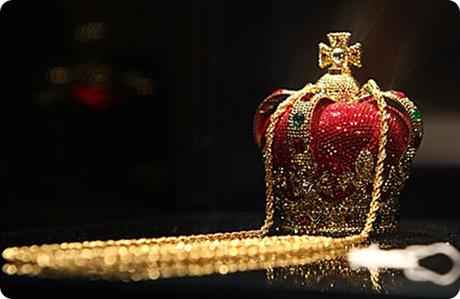 Our 'diamond star' surely showcased his 'golden glamour'. We love him as a person (inside and outside), his style, personality, art and everything associated with him. What are your views about him and his golden love? Share with us your thoughts by commenting below; we look forward to hearing from you!