by Sarah Horowitz / HuffPost
For the first time in 21 years, thousands of First Nations people from across the continent have canoed their way to B.C.'s Bella Bella island for the Qatuwas, or "people gathering together."
Also known as the Tribal Journey, the Qatuwas is an annual event that unites coastal First Nations from Canada and the United States for a week of exploring and sharing their cultures with each other.
The Qatuwas was founded by residents of Bella Bella in 1993, which is the only time it's been held there until now.
"They just wanted to bring back our old ways of gathering together, and our only transportation back then was to travel by canoe," Liz Wilson, a member of Bella Bella's Heiltsuk Nation, tells The Huffington Post B.C. "They just wanted to bring that back into our tradition, our culture; just to get all nations together to share their different cultures, language, and stories."
Because participants are coming from all over North America, some canoe trips last for weeks. This year, it took a Hawaiian community three weeks to arrive in Bella Bella.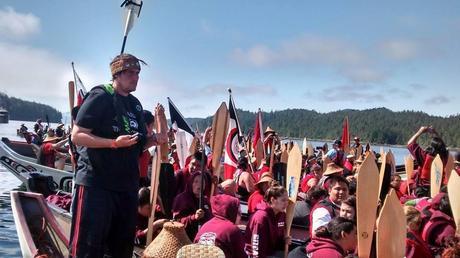 Liz Wilson
Wilson estimates that representatives from 20 communities are in Bella Bella for the gathering, totalling between 2,000 and 4,000 visitors. Bella Bella has a population of 1,500.
Once all the groups arrived, they floated together and took turns asking a Bella Bella chief for permission to come ashore. The visitors then set up camp, while elders and families with babies were billeted with hosts.
A different community hosts breakfast and dinner every day of the week-long event, which began on Sunday and runs until Saturday. This gives everyone else a chance to get to know them and their culture.
"I was 13 in '93 and I volunteered," says Wilson. "Now I'm 35 and I have a 14-year-old daughter who's volunteering.
"For me I'm just amazed with everything that's going on, being able to see the different cultures and hear the different languages," she continues. "[Both] meeting new people and seeing familiar faces from '93 — connecting and reconnecting."