New York fashion week has recently wrapped up and London Fashion Week is well underway. So I thought it was time to check out what the fashionable guests of NY Fashion Week were wearing and spot the most popular trend for this Autumn/Winter 2013.
The September fashion weeks around the globe give us an insight into what we'll be wearing next Spring/Summer in 2014. But the most interesting part for me is seeing what the designers, models, celebrities and fashionistas are wearing to attend Fashion Week. The attire of these fashionable guests confirms the current trends for this Autumn. And by the look of these street style snaps of visitors to New York Fashion Week, the big look for this season is "Floral Grunge".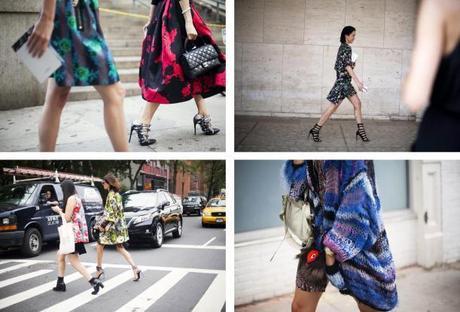 New York Fashion Week 2013 c/o The Citizens of Fashion
Designer Henry Holland introduced this trend during the last NY Fashion Week back in February (below left) and style super-store Lashes of London have been featuring it throughout their Autumn/Winter collections (below). This look is based on dark floral pieces that have been styled down by combining pretty dresses with tie-dye. Floral shirts can also be combined with textured fabric (such as torn denim, crochet and chunky knits) to get this look. New floral prints are darker in color than our summer favourites and the flower designs have a smudgey smeared appearance or digital, pixelated quality. Tropical designs are mixed with thick Winter jumpers, dark leggings and boots.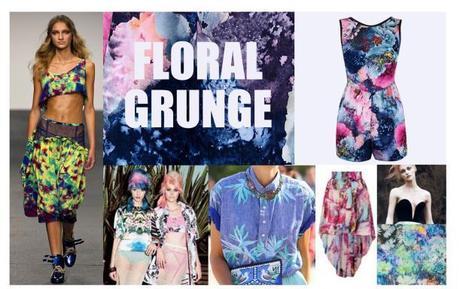 Get this look for less…
And best of all this look doesn't have to cost a fortune and you don't have to rush out to buy a whole new wardrobe. I've been rummaging around in my drawers to find items that I can use to recreate the floral grunge look for myself. And the good news is that any of my Spring/Summer floral dresses can be layered up with tatty cardigans, ripped denim and tie-dye grunge assessories. Have a look at what you already own and choose dark, grungy pieces to go with your florals to create a look that is fashionable, not just for SS14 but for right now!