Safety and environmental issues surrounding oil and gas transportation and supply chain operations remain paramount at every well field and in every cab working in the industry. That was among the key messages at the Oil & Gas Awards and Gulf Coast Industry Summit last month in Houston, Texas, where leaders from across the industry gathered to discuss best practices among organizations operating in the upstream and midstream sectors of the industry.
Even as the price of oil, natural gas and other hydrocarbons have experienced its greatest decline ever over so short a period of time, companies are exploring innovations to heighten vehicle ergonomics, safety, the use of alternative fuels and adherence to environmental and regulatory rules.
Companies are addressing the issues in a variety of ways. "Pedal placement and seat design help limit driver discomfort or pain," a representative of Kenworth Truck Company told attendees. Component placement helps reduce the distance drivers must reach to access controls, and by making it easier to get in and out of the cabs that drivers may be accessing
hundreds of times daily, the company is el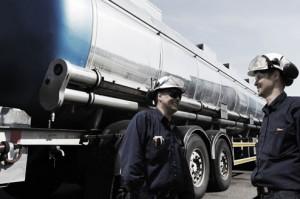 evating vehicle safety.
Modern lighting, like Xenon and projector beam headlamps, help illuminate the road. Cabs are designed to retain their integrity and door hinges are designed to remain closed during accidents and open more easily afterward, which can reduce incidents of driver or occupant injury. Computer aided technology is helping the manufacturer design vehicles with smaller engines and radiators, for example, to lower the hood crown and improve visibility, the representative noted.
Regulatory compliance remains an ongoing challenge. Growing use of onboard diagnostics helps ensure emissions equipment is operating and output is within limits. Moreover, using greenhouse gas calculations from the EPA, manufacturers are employing rolling resistance tires and other solutions to ensure trucks today achieve peak efficiency.
The abundance of natural gas, whether compressed or liquid natural gas, has presented cost savings for companies seeking fuel pricing stability. Low prices at the well site and the pump make alternative fuels more attractive than traditional hydrocarbons and diesel fuel. Combined with the growing number of gas stations that dispense the product, more companies than ever are considering transforming their fleets from diesel to natural gas. In fact, diesel's currently low price hasn't dissuaded some from making the change, said an executive with Dresser-Rand.
Now, the industry must decide how to seize the opportunity. In a literal sense, gases otherwise flared off from well sites could be captured at the source and used for trucks, other vehicles and even well machinery itself.
Across the industry, improved health and safety, better regulatory compliance, and educating communities about the oil and gas industry keeps the trucking industry "absolutely at the center of the summit, and the important part of its health and safety," said Marc Bridgen, Chief Marketing Officer with the Oil & Gas Awards.
"If you look at any oil and gas company or midstream operator or service provider who makes it work, trucking and logistics is a massive part of the industry," Bridgen said. "The product needs moving, as does everything that rolls in and out from a well site."
To learn more on the issue of vehicle safety in the oil and gas industry, read the January blog post by Steve W. Martin, Vice President of Operations in the Ryder Dedicated division. He wrote about the "Three Es" – employees, equipment and environment – a presentation given by Ryder Senior Manager Randy Tomlinson at the 2014 OSHA Oil & Gas Safety and Health Conference. The post explores how leadership, employee empowerment, meaningful training, safety technology and reflection and observation of working conditions can help organizations can help reduce the dangers to drivers and vehicles found in oil and gas worksites.