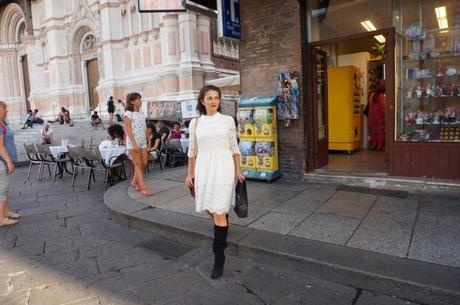 Some of you may remember the Burberry Pre-Fall 2016 fashion lookbook, it was very 70s inspired with suede, wide leg pants, trench coats and also one of my absolute favorite looks for the upcoming end of summer (aka pre-fall) season: The White Lace Babydoll dress with Black Boots! Last week on the blog I shared this look, but I thought I would go deeper into the trend with you to share some inspiration for the fall!
The Early Adopters
I consider myself an early adopter of this trend, because on Pinterest, Instagram and the fashion bloggersphere there are actually not many fashion bloggers sporting the look...YET! Just wait for the end of August/first two weeks of September and you will start to see this look EVERYWHERE.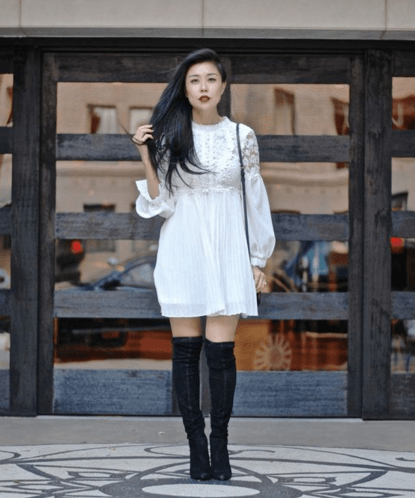 It is the perfect combination of flowing femininity and practicality for the fall because your legs are mainly covered, however, you still have light flowy fabric that says "summer's not quite over yet"!
I have created a new Pinterest board dedicated to the trend, and there you'll find looks pinned from a few different fashion bloggers who are already moving into the white lace babydoll plus high black boot territory. Check out this look from Satinwaves.com:
You can find this look as well as other bloggers, and inspiration from the Chanel Fall2016 show on the pinterest board!
Everybody wants to be like Kylie!
Ok well maybe not *everybody*, however this curvy fashion icon is certainly making waves in terms of setting trends that stick. Here she was spotted wearing a winter white coat, white lace babydoll dress and thigh-high black leather boots in a combination that was provocative but not over the top.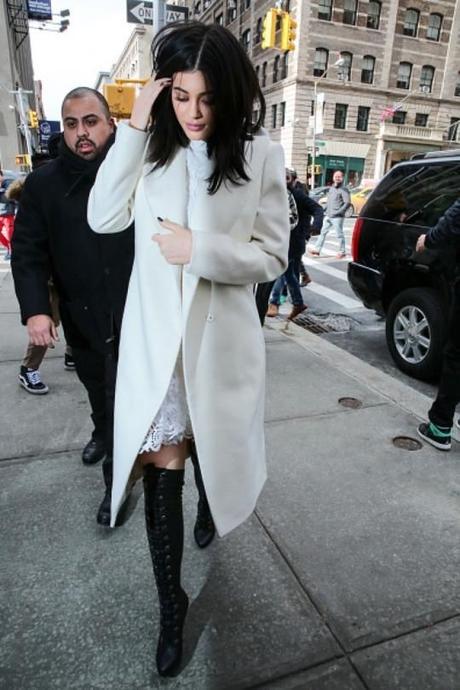 Have you heard of the KENDALL +KYLIE clothing line, available at Shopbop.com? I was skeptical at first as well, but the line is incredible. Great price for the quality, excellent designs that are flattering to REAL WOMEN'S BODIES and as part of the line you'll find this lace babydoll dress in black and white, currently on sale here for $124.00 down from $178.00.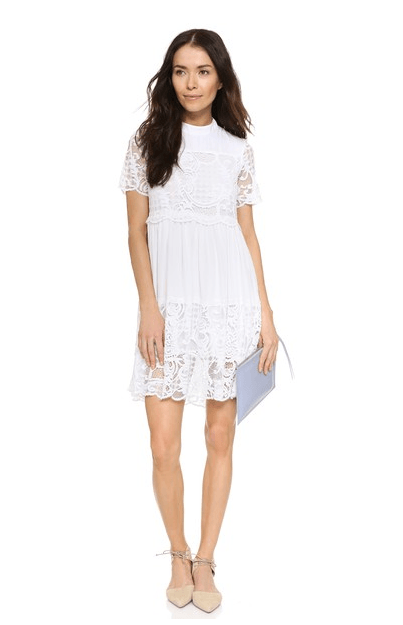 The key to this look is the high, squarish neckline, cropped elbow length sleeves, the just above knee lace and a lace covered bodice. My own lace dress ( worn in this post) was found here for under $25!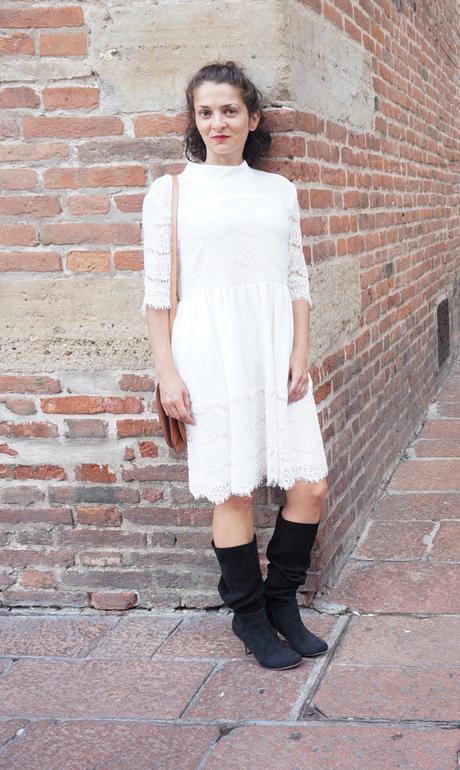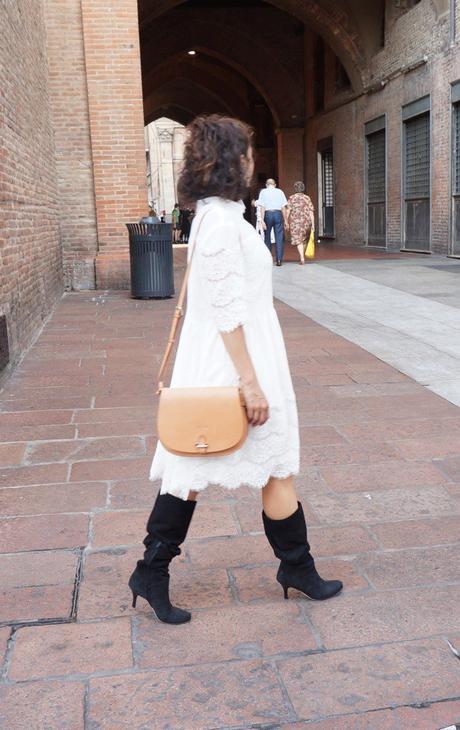 SHOP THE LOOK
If you are at all interested in this trend I suggest you get onboard NOW while the sales are happening, because they are SELLING OUT like hot cakes. These are my favorites, and some are currently marked down! These were all found on SHOPBOP.com which offers free express international delivery, and there are still a few priced under $50!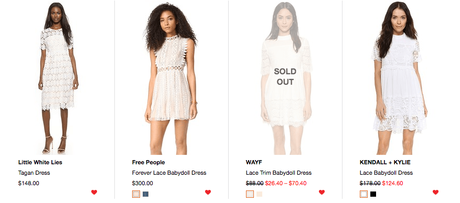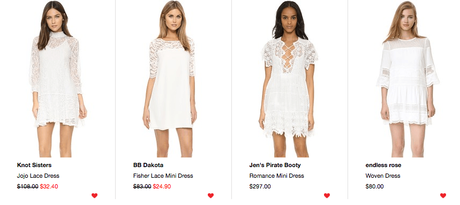 Has anyone else spotted this trend yet on social media, in stores or in real life? It seems like everyday I see someone else wearing it, and I am continually adding pins to the board.
One of my friends and followers on Instagram gave me a huge compliment the other day because she said this look was "actually very wearable and not over the top" and I couldn't agree more with her. Would you wear this?
#REASONSTODRESS DRESS TO IMPRESS FASHION BLOGGER LINKUP
Welcome to the #REASONSTODRESS DRESS TO IMPRESS LINKUP for fashion and style bloggers!
This linkup is hosted by REASONS TO DRESS - An Italian lifestyle blog about an expat-Canadian married to an Italian leather artisan. Part of this new linkup is sharing up and coming style bloggers and we're always looking for fabulous co-hosts who will be interviewed and featured - email [email protected] for info!

SHARE YOUR POST ON TWITTER with the hashtag #REASONSTODRESS & you'll get a retweet!
REASONS TO DRESS - An Italian Lifestyle Blog About Fashion, Travel & Life in Italy
THIS WEEK'S BANNER / INSTAGRAM IMAGE :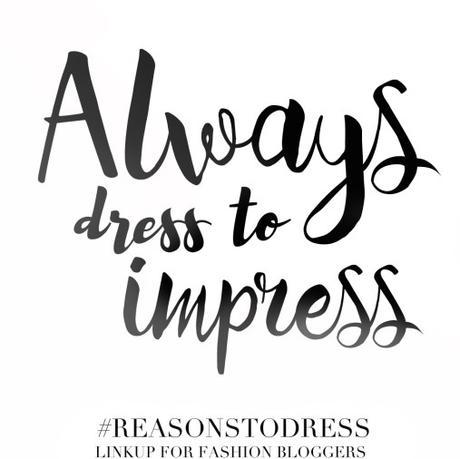 Grab the 200 x 200 version of this banner for your blog post with the code below!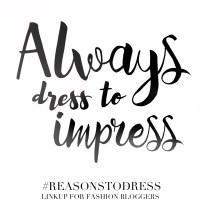 PLEASE : Linkup your STYLE related posts, new and old! Or Linkup a FASHION related picture from Instagram with the hashtag #REASONSTODRESS
PLEASE: Add the badge or a link back to EITHER of the weekly hosts
PLEASE: Follow each host on at least 1 social network , we're friendly, social and generally over-sharers! Let us know that you've followed so that we can share the love!
PLEASE: Please be social and visit a post that interests you. Don't forget to use the #REASONSTODRESS hashtag to let people know how you found them!