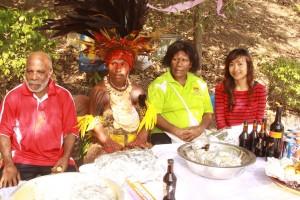 Traditional attire worn at Mumu feast in Port Moresby at Bull's Eye Lodge
Kokoda Homestay
Bruce will help arrange your homestay and answer any visit related questions about traveling in the area.
All flights to Papua New Guinea arrive and leave from Jacksons International Airport in Port Moresby (Common carriers include: Virgin Australia, Qantas & Air Niugini). Lodging is very expensive in Port Moresby due to a current economic boom with gold mining and the oil and gas industry. Most likely you will need to spend at least a night here – an affordable alternative to the expensive hotels is a homestay.
Bulls Eye Lodge run by Joseph and his wife Rosie is located about 15 minutes from the airport; this guesthouse is a part of their home. Joseph is a wealth of information about Papua New Guinea, is well traveled Internationally, often travels within the country for his work and knows a wealth of individuals within Port Moresby and beyond. He is a gracious host, can help answer travel questions and steer you in the right direction in regards to local travel plans. Visit: www.bullseyelodge.com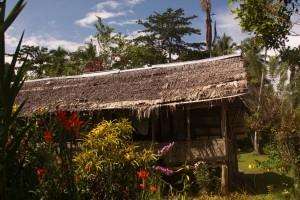 Homestay at Beleni Village
Too often visitors come to this area only to trek the Kokoda Track, famous for its World War II history and severe battles between the Australians and Japanese. However, to do so would be to miss out on the realities of life here, authentic experiences, local foods, and the genuine hospitality of those who live in the region.
Stays here are not just for anyone – Papua New Guinea is remote, expensive and logistically not easy to reach from many parts of the world. Life is not easy in the village – medical attention is not close by, there is no or very little electricity, transportation between the villages is nearly entirely on foot (there are only small trails in the mountains), this is a rainforest so there is often plenty of rain and lodging is rustic and primitive.
For the independent and adventurous traveler, however – a homestay here will bring memories and experiences that will last a lifetime.
The reality of death here unlike a number of western cultures which puts it at bay for a longer period of time – is more a part of daily life. During our stay, a young lady died from stomach problems and as we passed through the small village we saw a number of men digging her grave – right next to the trail. Life spans are much shorter, injuries are common, as is illness – from these remote villages you cannot easily get to a hospital. All the villages we have visited have a disproportionate number of young children under the age of ten.
There are four primary villages setup for the homestay – the base village of Beleni in the Kokoda Valley, the small hillside villages of Foke and Savaia and the most difficult village to reach because of its mountain location, Misima.
The Experience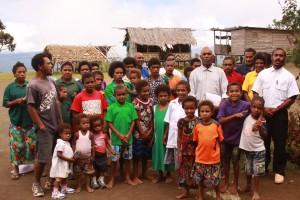 Entire village preparing to sing a welcoming song as we arrive
All are extremely welcoming of travelers.
A nearby river is accessible via a 30 minute hike – the villagers swim and bathe here. A waterfall comes cascading out of the mountains. Experiences here are genuine. With limited contact with visitors – the villages remain an authentic look at rural and remote Papua New Guinean village lifestyles.
While Misima is the furthest village from Belini under the auspices of Kokoda Homestay, it is well worth the effort to trek here. The narrow, steep and often slippery trail winds its way up the mountain until you rise above the clouds and then it's only you and the expansive valley below. Misima is remote and located on steep forested slopes directly across from the Kokoda Track.
Seli is the property owner and when guests arrive he brings help from two small villages (about a 30 minute walk away). He is one of the more amazing people I've met on my travels – so much energy, so much knowledge about where he lives, a matter of factness about the harshness of life here and a graciousness that is clearly felt along with his genuine hospitality.
You come to Misima to get away from it all – it is remote, secluded and surrounded by natural rainforest. A stay here is quiet and peaceful. During the rainy season, the clouds settle in the afternoon and you are surrounded by the mists of the jungle. Shy Birds of Paradise call out in the afternoon – but you probably won't see one as they likely will remain hidden under the rainforest canopy. Tree Kangaroos live in the upper most part of the jungle – sometimes hunted with dogs by the locals.
Our friends from Cold Media Productions – producers of the documentary video of our trip to PNG
Preparing to remove the chicken from the ground for the Mumu feast
Neat looking growth in middle of trail
One of many streams in the highlands of PNG
Author resting after an arduous climb up to Misima Village
Nearby attractions include a strenuous hike straight up the sides of the mountain to the site of a 2009 PNG Airlines plane crash. The plane and much of its contents still litter the hillside. A memorial plaque pays homage to the 13 victims. The Kokoda Track is about a 2 hour hike from here – with chances to see war memorials. Seli also has a number of WWII items – old rusted guns, battle helmets and bayonets, still containing the original wood from 70 years ago. During the war, his father was a "carrier" – ferrying supplies for the Australians up and down the mountains. In fact during the war, the 53rd Battalion was stationed where his guesthouse is currently located.
Misima sits on the edge of a gold bearing region and Seli is more than happy to bring you out to one of the small creeks to try your hand at gold panning.
Visitors to the villages will bathe as the locals do – nude and in clear mountain streams. In the mountains you drink water directly from the creeks and streams that flow through the jungle. It is clean, cold and very refreshing.
If you have to stay in Popondetta (where there isn't much in the way of decent accommodation), because of logistics in getting to Beleni Village, consider a homestay with the head of security, Stafford who works at Popondetta Airport. His village is within site of the small airport – only a 10 minute walk away in the direction of Popondetta town.
For more information and to arrange a stay, please visit: www.kokodahomestay.com
Cool bug spotted next to the trail in the highlands
Amazing spider – with its own shell
Children greeting us on way to Misima Village
Beautiful clouds near the small town of Kokoda
Fresh fruit in village of Foke