Trekking in Nepal is the most exciting and popular hiking adventure in the world that crosses the beautiful Himalayan trails that cross the mountain passes, fascinating middle hills, colorful villages and gradually gaining altitude towards the base camps of the most peaks Great of the world. Nepal is home to Mount Everest, the highest mountain peak in the world and other snowy Himalayas ranging from 5000m to 8000m. including Mount Annapurna, Mt. Manaslu, the mountain. Kanchenjunga, Mt. Makalu, Mt. Dhaulagiri.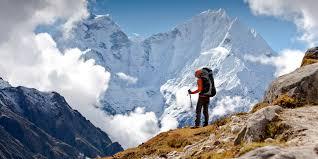 The best time to visit Nepal: when is the best time to go to the Himalayas?
In general, the right time for trekking in Nepal is in autumn, from mid-September to November and from March to May, but trekking to the Himalayas can be done all the time in a year. Nepal is one of the best countries for adventure activities such as trekking and hiking walking towards the Himalayas. This is the peak trekking season in Nepal after a dry, moderate temperature and clear mountain views. During this time, the main trails Annapurna, Everest, Langtang and Manaslu routes, flights and accommodation will be busy. But during the winter and the monsoon season, many trekking trips are not recommended. Few trekking trips can still be operated during the low seasons. Short walks in Nepal are best during the low winter and monsoon season.
Trekking styles: Tea house or camping?
Trekking in Nepal is of two types; Tea house trekking and camping walks. During the trekking in the tea house or in the lodge, you will stay in a local tea house or lodge managed by local people with basic accommodation facilities. Trekking styles depend on altitudes or increased elevation, that is, as you go up, the availability of teahouses will be lower, so at high altitudes there will be camping accommodation and Sherpa cooks will prepare foods. The base camp of Upper Dolpo, Kanchenjunga and Makalu attends camp walks, while Everest, Annapurna, Manaslu, Langtang and Mustang are walks in the tea house.