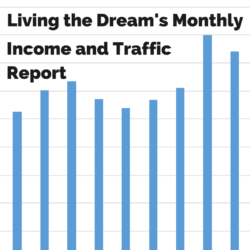 Ecuador Purelife is a company based in Quito, that specializes in providing fun yet educational programs customized to suit the needs of all clients.
A huge chunk of our tour involves trekking various landscapes that Ecuador had to offer. Each destination had its own share of challenges, and wonder. We were grateful for the opportunity to experience all of it.
Cotopaxi National Park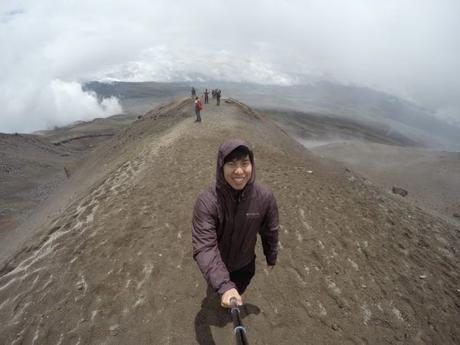 After a brief introduction to our guide and tour mates the night before, we were whisked away to Cotopaxi National Park early next morning. Cotopaxi National Park is a popular destination for avid hikers, and visitors who would appreciate a good spot for landscape photography. We spent 45 minutes trekking up to the refuge at nearly 16,000 ft. This is definitely a worthwhile hike. While the trail itself is short, trekking at such a high altitude and in such cold weather is no easy feat. The moment we left the bus, we found the weather to be windy and at one point it was even hailing. However, once the wind and hail subsided, and clouds parted, we caught the most beautiful glimpse of Cotopaxi and its ice capped mountains. It was surreal to see such Cotopaxi against the brilliant blue backdrop of the sky.
At the refuge, you can reward yourself with a hot beverage, and perhaps purchase memorabilia to commemorate your achievement.
At the end of our hike, we stopped at the restaurant for a hot bowl of Ecuadorian potato soup which really hit the spot after such a cold and strenuous activity.
Jungle Life - Trekking the Amazon Rainforest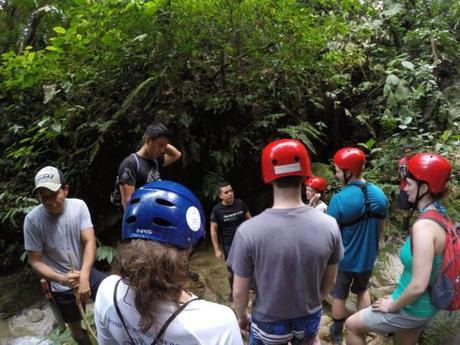 Famous for its wildlife diversity and plant life, I was pleasantly surprised to find that hiking in the rainforest turned out to be one of the best experiences I have had with Ecuador Purelife.
Equipped with rubber boots, we set off into the jungle for an afternoon of adventure. We climbed up wooden ladders, balanced on top of rocks and tried our best not to slip on mossy boulders. This is exactly what we had in mind when we thought about adventure travel. Guided by locals who lived in the rainforest, they made our experience highly entertaining. Whether they are cracking jokes or making perfect imitations of animal noises, their infectious energy kept the atmosphere upbeat. At one point they encouraged everyone to stand under a waterfall for a count of three, leaving us fully soaked but very happy. Being deep in the Amazon rainforest really gave us a greater appreciation for one of the seven wonders of nature!
Cuicocha Crater Lake - The Final Showdown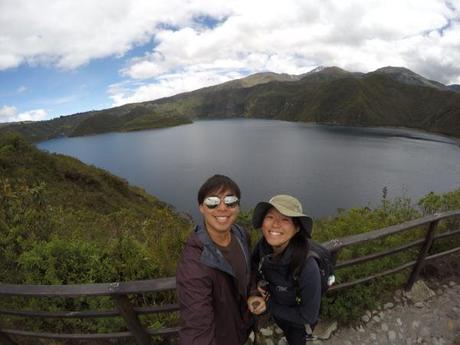 Perhaps the most challenging trek with Ecuador Purelife was the 4 hour hike around Cuicocha Crater Lake, or Lake of the Guinea Pig. Unfortunately, we didn't see any wild guinea pigs, but what we saw was a breathtaking view of the lake, and the islands in the middle. To say the trek was difficult is an understatement. The maximum altitude we reached was 11,800 ft, meaning the inclines were so steep it left us gasping for air and moving at the pace of a snail. Despite its challenges, the picturesque landscape made all the hard work worth it.
After such a strenuous activity, we celebrated with sandwiches and delicious mango juice, which we devoured in a matter of minutes!
Final Thoughts on Traveling Ecuador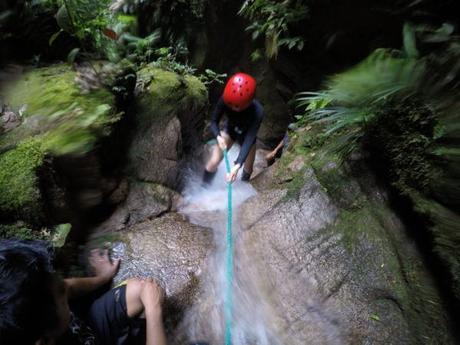 If you are planning on visiting Ecuador for adventure travel, we highly recommended Ecuador Purelife! We have raved about them, and will gladly do it again.
Initially Karen and myself weren't sure if we would physically be able to handle so much adventure, but Ecuador Purelife really took good care of us. Our trip has been fun, exciting, and more importantly safe. It was just a week full of surprises!
We were very sad to say goodbye to our guide Paul, and driver Jose, who we consider to be a dream team when put together. Both of them are enthusiastic, passionate, and more importantly, really dedicated to making this trip the best experience for everyone. And guess what? They succeeded! We loved Ecuador and will look forward to coming back for another adventure!
We'd like to thank Ecuador Purelife for inviting us out to experience their multi-sport tour in Ecuador.
For more articles from Kendrick's travels in Ecuador, check out 10 Adventures You Can't Miss in Ecuador, Ecuador Multisport, white water rafting in Ecuador, and mountain biking in Ecuador.