September 19, 2014
By
Alison Wood
Leave a Comment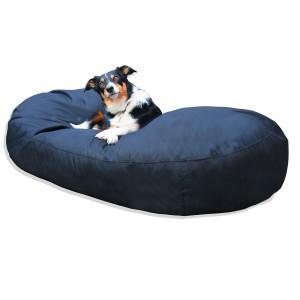 People don't just own beanbags. They enter into a whole beanbag philosophy – one of fun, comfort, and relaxation combined into one.
For people that have a beanbag they struggle to go back to a plain old chair. The philosophy takes hold, whether it's a small cushion-sized beanbag to perch on or an enormous mattress-sized one that swallows the body whole.
It's not only humans that fall in love with the beanbag way of life. Pets of all shapes and sizes fit naturally with beanbags, especially dogs. And what could be more fitting than man's best friend owning their very own dog cocoon?
A companion for your companion
A dog cocoon is a fantastic hideaway for dogs, especially smaller ones that like to snuggle up in comfort away from the world.
The typical dog cocoon has a padded base and curved roof, and what's more they're usually incredibly light, allowing people to move them towards radiators and other safe places during colder months.
Dog cocoons are an affordable way to treat pets to something more unique and comfortable than a standard dog bed and blanket – they're certainly more affordable than an $800 dog camper van!
All about dog cocoons
The best dog cocoons are comfortable and are available in a variety of colours. They're usually better for smaller dog breeds, while larger breeds can be more suited to big round dog beds and larger oval bean bags.
There are dog cocoons out there as well that can morph into pet carriers as well as being a comfortable bed for the family dog. They can be used as a car booster seat, can be suitable for air travel, or can even find space on the front of most bikes as a form of pet transport.
A lot of a dog's cocoon enjoyment stems from the roof and can help make them feel safe and sound. Puppies are often sheltered by their mother after birth and that habit can stick with some dogs – a lot of dogs hide under beds, tables, and more when frightened.
The natural roof on the dog cocoon is the ideal extra comfort for smaller dogs, feeling safe and sound as they tuck themselves into their dog cocoon after a long day of play.
Dog cocoons for everyone!
Dog cocoons don't have to be exclusive to dogs. There's no reason that cats can't make themselves at home in one, or if people want to use it for any other smaller animal that wants to curl up in comfort.
There are also other options to keep pets and smaller dogs comfortable that are different from the norm. Smaller dogs can also enjoy puppy memory foam dog beds – all options ideal for keeping clean and light enough to move around the house.
There are so many options for owners to choose when they're looking to treat their pets. To find out more about dog cocoons and how pets can enjoy the comfort they provide visit Great Bean Bags today to find out more.
September 19, 2014
By
Alison Wood
Leave a Comment
Filed Under: Dogs
Tagged With: dog beds