I'd like to welcome Nadine Hallak, Travel Expert at leading flights deals website Cheapflights.co.uk, for a guest post today! Rather than honeymoons, she's here talking about a Valentine's escape – although to me, Barcelona sounds like a pretty great honeymoon or stopover destination too.
While everyone else is coping with freezing temperatures and dreary skies, whisk your loved one away to sultry Barcelona this Valentine's Day. Barcelona is the capital city of Catalonia in sunny Spain and boasts mild winters and a prime location on the Mediterranean Sea. Hospitable people, picturesque scenery, cultural attractions and a wealth of activity make up just some of the offerings to be enjoyed on a romantic getaway. In this guest post, Nadine Hallak explores why Barcelona is the perfect place to enjoy Valentine's weekend this year, with flights to Barcelona from just £61.
Barcelona residents enjoy life to the fullest and their enthusiasm is infectious. Get to know the city and its people more intimately either on your own or through guided tours on foot, by bicycle, bus or even helicopter. Make sure to stop by some the more illustrious landmarks including Antoni Gaudí's architectural masterpieces La Sagrada Familia church, with its Gothic and Art Nouveau elements, and Park Güell, influenced by the British Garden City Movement.
The city has its share of noteworthy museums such as the Museu Egipci – or Egyptian Museum – which houses one of the continent's best collections of Egyptian art and artifacts. The Museu Nacional d'Art de Catalunya (MNAC) houses examples of Catalan art from the 10th through the 20th centuries, and includes pieces by El Greco, Rubens and Picasso. The brand-new Museu del Modernisme, open since 2010, displays art from the Modernisme movement, while Museu d'Art Contemporani de Barcelona (MACBA) highlights contemporary work.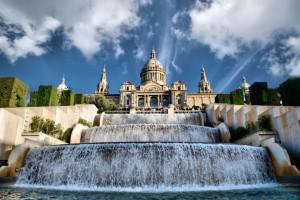 For a bit of youthful entertainment, make your way to the Tibidabo Amusement Park at the top of Tibidabo Mountain. Enjoy vintage rides as well as a turn on the not so vintage and highly stomach-churning roller coaster. While on Tibidabo Mountain, take a ride up the Collserola Tower, constructed for the 1992 Summer Olympics, and share a breathtaking view of the city and sea 560 metres above sea level.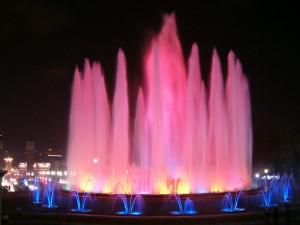 Latin dancing is passionate and a fitting activity for your Valentine's weekend. Take your partner for a twirl around the dance floor of the popular Antilla BCN Latin Club, featuring live music and Latin dancing lessons, or the Mojito Club, where international DJs play music for salsa, merengue and the Cuban-influenced danzón. If you'd rather relax than be on your feet, sit back and enjoy a flamenco performance at the Tablao Cordobés, which comes with an optional Mediterranean dinner buffet.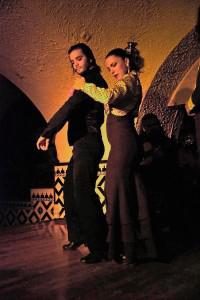 Barcelona offers restaurants that excel at native Catalan cuisine with its base of ingredients that include tomato, garlic, beans and seafood. Alkimia, with its modern take on the region's food traditions, and Can Cortada, featuring classic Catalan fare inside an 11th century castle, are excellent choices. If you and your 'amour' are in the mood for French bistro food, try La Maison Du Languedoc Roussillon and its signature dishes of duck confit and foie gras. For a more affordable and perhaps more connected eating adventure, explore the city's 40 food markets including Mercat de la Concepció for fresh local foodstuffs to eat on a picnic.
Photo Credits: Souvik_Prometure, Samyra Serin, retrorocketrick and MorBCN.