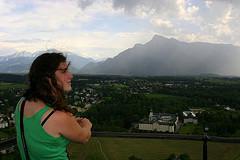 Traveling solo and traveling alone are two very different things. As a solo traveler, sure, you're traveling on your own, but you've done your research on the areas you're visiting, and you're keeping in touch with friends and family at home. Traveling alone means feeling alone, an overwhelming feeling that can leave you constantly checking behind your back and cutting into your enjoyment. Traveling solo for women doesn't have to be a daunting experience – with the proper research you can feel confident in your travels and have an enjoyable experience.
Research, Research, Research.
We can't stress enough the importance of researching the area you're traveling to. Whether you're vacationing to a well-known city or an area where sheep outnumber people, research the area, its safety, tourist-friendly areas, and insider tips on where to go and where to avoid. Print out maps of the area, and bring along a guide book, if one exists. Doing some upfront research not only gives you peace of mind for your trip, but it also gets you excited for it!
Keep Multiple Copies.
You've likely heard horror stories of passports and id cards being stolen while traveling. Bring along multiple copies of all important documents, and always lock the originals away in a secure safe. Keep the copies in multiple locations – one in your bag, another back in the hotel, and another copy with your relatives back at home.
Know Basic Self Defense.
We never advocate violence, but if you find yourself in a threatening situation, self defense is absolutely necessary and could save your life. Before you leave for your trip, take a self defense class for you to at least learn the basics to defense yourself. We hope you never have to use these techniques, but even knowing them gives you an added air of confidence as you travel.
Keep In Touch.
We live in a digitally connected world, and although it's nice to "get away from it all", it's important that you touch base with your friends and family back home throughout your travels. Location-based social media applications like 4Square make this a cinch, but you can also send a quick email letting them know what you're up to, or if you're in an area without an Internet connection, commit to sending a post card or letter at least twice per week. Natural disasters and unfortunate situations can happen anytime, and it's vital to your safety that you keep in touch with those back home.
Solo travel is a wonderful experience, but be sure you've done your homework and have all the safety essentials you need to travel by yourself with confidence. Have you traveled solo? What kind of tips and advice do you have for those traveling alone?
Author: Spy Town
SpyTown.com is the home security camera expert. We've helped many a traveler with security and safety advice, not only for their travels, but with Internet home security cameras for them to check in on their homes while they're away. A safe and secure traveler is a happy traveler!
Photo by kadesoto.