Recife the Venice of Brazil
Recife is a reference to the coral reefs that are by the town's beach also is known as the "Venice of Brazil", as it is crossed by waterways and bridges
Is the biggest town of the state of Pernambuco. The town has a population of more than 1,550,000 people today.
The seaside of Porto de Galinhas, about 60 miles/37 km southern of the town, has been frequently granted the title of best beach in Brazil.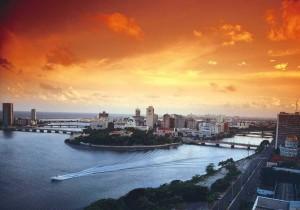 Recife Venice of Brasil
Recife's facilities are among the better builded in Brazil for tourists and business men.
Recife is one of the 12 venues for the 2014 FIFA World Cup, for which Brazil is the selected country.
The urban area includes a new Sports Complex to be designed in São Lourenço da Mata in a junction place near to downtown, between Camaragibe and Jaboatão dos Guararapes.
The new Complex is 19 km/12 mi western of Recife downtown and 19 km /12 mi from the International Flight terminal.
The sports Complex will have a new athletic field (Arena Cidade da Copa) for 45,000 people, 9,000 residences, 6,000 vehicle parking with medical center and shopping mall also a renewed metro/bus location and enhancement of streets, with an approximated cost of $ 1.6 billion reales.
Further costs will be required in the city place to modify the streets and other airport developments.
Recife has been selected twice to be a venue for the FIFA World Cup.
In 1950, Recife received the honor to be the host of the game between the the United States and Chile at the FIFA World Cup of that year.
Currently, is the only town from the Northeast of Brazil, selected as a venue.

Rating: 5.0/
5
(2 votes cast)