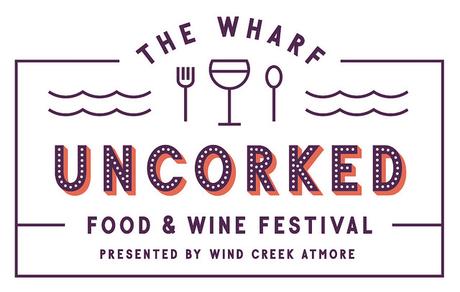 The Wharf Uncorked Food & Wine Festival, presented by Wind Creek Atmore, returns to Main Street Sept. 14-16 bringing together local and celebrity chefs and more than 100 labels of wine for a three-day culinary experience. In addition, there will be chef demonstrations at the Rouses Market Culinary Experience Tent, book signings, the luxury yacht walk and both live and silent auctions benefitting Make-A- Wish® Alabama.
Thursday, Sept. 14 – VIP Kickoff Party & Chef Showdown 6:30-8:30 p.m. at 4720 Main Street
The weekend will begin with a roster of high profile guests, an open bar with a signature cocktail, an auction preview and of course, high-end wine tastings and food samplings. Guests will have a front-row view as reigning showdown champion, Brody Olive (Perdido Beach Resort), is joined by Jason Ramirez (Villaggio Grille), Chris Kelly (Driftwood Steakhouse) and Justin Cobb (Wolf Bay Lodge) for this year's competition. Each chef will battle to create the best dish with Alabama Gulf Seafood fueled with culinary challenges and roadblocks. Tickets are available for $40.
Friday, Sept. 15 – Local Wine Dinners
The Wharf is home to more than 10 unique restaurants with a robust range of fare. Participating venues along with others along the Gulf Coast will curate individual menus with specials and wine pairings. Guests can make reservations directly through the restaurant of their choice.
Saturday, Sept 16 – Grand Tasting
12-4 p.m. throughout The Wharf Entertainment District The Wharf Entertainment District will be lined with vendors serving more than 100 labels of wines, craft beer, spirits and small bites for the culinary competition from more than 15 restaurants.
Guests will have the opportunity to cast a vote for their favorite dish, and the night will close with a ceremony of awards. Again this year, The Wharf Uncorked champion will be an automatic Elite Qualifier for the World Food Championships in November back at The Wharf. Tickets are available for $70 for the Grand Tasting or $95 for combo tickets granting entry to the VIP Kickoff Party and the Grand Tasting.
Tickets are available online through Ticketmaster.com, or at The Wharf box office. For more information, please visit TheWharfUncorked.com. If on social media use #thewharfuncorked!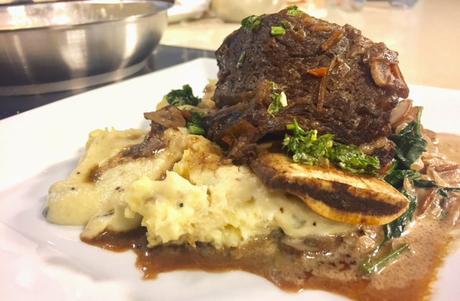 From: Chef Chris Kelly, Owner of Driftwood Steakhouse, The Wharf
Braised Short Ribs
INGREDIENTS:
1 Cup All Purpose Flour
1T Salt
1T Cracked Black Pepper
6 Lbs "K Style" Beef Short Ribs
4T Butter
1 Yellow Onion (Small Dice)
½ Cup Garlic (Minced)
1 Large Peeled Carrot (Small Dice)
2 Stalks Celery (Small Dice)
1 Cup Red Wine
1 Cup Guinness Stout Beer
2 Qrts Veal or Beef Stock
1 Large Beefsteak Tomato (Small Dice)
2 Bay Leaves
1t Dried Thyme
1T Salt
1T Pepper
1T Blackening Seasoning
3T Worcestershire Sauce
STEPS:
Combine flour, salt, and pepper in a mixing bowl. Lightly dust the short ribs with the flour mixture and set aside. In a Dutch oven on medium heat, add butter and sear short ribs for two minutes on all sides and remove for later. Add (6-9), stirring frequently, and sauté until onions are translucent. Add red wine and Guinness and bring to a simmer.  Add short ribs and remaining ingredients, cover and transfer to a 300 degree oven for 2 ½ hours until fork tender. Reserve ½ cup of the remaining braising liquid for mushroom ragout recipe. To make the demi glace', strain liquid, and simmer on low heat until the liquid has reduced to 25% it original volume.
Roasted Garlic Mashed Potatoes
INGREDIENTS:
2 Lbs Yukon Gold Potatoes (Cut Into Large Deices)
½ t Kosher Salt
12 Garlic Cloves (Roasted)
1 Cup Heavy Cream
4T Butter
1T Horseradish (Prepared)
1T Black Pepper
1T Kosher Salt
2 Stalks Green Onion (Whites remove and Greens cut to 1/8″)
STEPS:
In a large sauce pan on medium heat, add potatoes and fill with cold water and ½ t salt. Bring to a boil, reduce heat to simmer and cook until potatoes are soft.  In a small sauce pan on low heat, warm the heavy cream with the roasted garlic and butter. Strain potatoes and mash with the heavy cream mixture until you have reached desired consistency. Add salt, pepper, and green onion to finish.
Parsnip Puree
INGREDIENTS:
1 Lb Parsnips (Peeled and thinly Sliced)
3 Garlic Cloves
1 Cup Heavy Cream
2T Butter
2T Salt
1T Cracked Black Pepper
STEPS:
In a medium saucepan, combine all ingredients and simmer on medium heat until parsnips are completely softened, usually about 15 to 20 minutes, Puree mixture and set aside for plating.
Wild Mushroom and Spinach Ragout
INGREDIENTS:
3T Butter
1½ Lbs Assorted Wild Mushrooms (Sliced)
4 Garlic Cloves (Thinly Sliced)
1 Shallot (Minced)
3T Brandy
3T Red Wine
½ Cup Braising Liquid From Short Ribs
½ Cup Heavy Cream
1 Sprig Fresh Rosemary (Finely Minced)
1T Salt
1T Course Ground Black Pepper
1Lb Fresh Spinach (Cleaned and Trimmed)
STEPS:
In a large sauté pan on medium high heat, melt butter; add mushrooms and sauté until mushrooms are lightly browned, usually about 7 minutes. Add garlic and shallots and sauté for another 5 minutes. Deglaze with brandy and red wine and simmer for at least two minutes. Add (7-11), bring to a simmer. Fold in spinach until wilted and set aside for plating.
White Balsamic Gremolata
INGREDIENTS:
1 Small Bunch Flat Leaf Parsley (Destemmed and finely Minced)
4 Cloves Fresh Garlic (Thinly Shaved)
2 Large Lemons (Zested and Juiced)
¼ Cup Olive Oil
3T White Balsamic Vinegar
1t Capers (minced)
STEPS:
In a nonreactive mixing bowl, whisk together all ingredients and set aside for final topping and garnish.
Driftwood Steakhouse is located at 4851 Wharf Pkwy E #116 in Orange Beach, AL 36561. Hours of operation are 11am to 9pm Sunday – Thursday, and 11am to 10pm Friday and Saturday.
The Wharf
Located in beautiful Orange Beach, The Wharf is the Gulf Coast's premier destination resort and Marina. The Wharf features a unique selection of shopping, dining and entertainment options, including restaurants, boutiques and stores, a 15-screen movie theater, 112 foot tall Ferris wheel, and live music at The Wharf's 9,600 seat Amphitheater. No matter the time of year, The Wharf is the ultimate family-friendly vacation destination. The Wharf is located at Orange Beach 23101 Canal Rd. in Orange Beach, AL 36561.