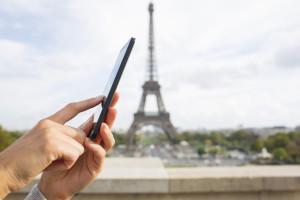 Whenever you book a vacation or trip, you likely think about all of the activities you'll take part in, the sights you'll see and the fun you'll have. What you probably don't think about is the possibility of problems arising during your trip.
But, no matter where you're traveling or what you plan to do when you get there, there's the possibility of unexpected problems, big or small. Luckily, technology has armed us with smart phones and devices that can come to the rescue, letting you get back to your adventure or relaxation as quickly as possible.
Before boarding your flight, considering downloading some (or all) of these apps that can get you out of a bind and back to having fun.
HotelOverbooking
Picture this: you spend hours or even days traveling to your destination. You arrive at your hotel, ready to take a long shower and curl up in your bed when you hear the bad news: The hotel reservation system made a mistake. This app eliminates having to rely on the concierge and front desk staff to find a room for you or calling around to find alternate accommodations. HotelOverbooking can place you in a hotel that's on par with quality and service, offering similar experiences as the one you originally chose.
mPassport
Although you may try your best to avoid it, sometimes you may get sick or hurt while traveling. If and when this happens, mPassport can help [disclosure: mPassport is a product of HTH Worldwide, sponsor of the Global Citizens Association and Healthy Travel Blog]. mPassport is a global searchable database of more than 7,000 vetted doctors who are guaranteed to speak English. An annual subscription is $34.95, unless you have an HTH Travel Insurance policy – then it's free.
Travedoc
If you're traveling to or living in a new country, this free app gives you the ability to choose and schedule an appointment with qualified doctors, dentists or specialists who also speak your language. Travedoc only accepts senior physicians into its network and conducts thorough background and facility checks, ensuring you can trust the doctor you see regardless of what country you're in.
Fluency
A language barrier can cause significant problems —and even be dangerous— if you're dealing with an issue. That's when this app can help. Fluency gives you 24/7 access to interpreters who speak more than 200 languages right on your smart phone. Just be aware that this service starts at $5 per minute.
HotelMyPhone
In the event your phone gets lost or stolen, or your battery just dies out of reach of a charger and outlet, this app might be able to temporarily help you. It's a peer-to-peer app that lets you use your friends' phones as if they're your own. You can make calls, send text messages and access your contacts through the app. The caveat here is that your friends need to have the app on their phone to help you…and the generosity to share their phone with you.
Boingo
Simply sign up for a monthly subscription and POOF! You'll have access to more than a million hot spots around the world. That means you won't have to pay for expensive in-room Wi-Fi or use a ton of data accessing the Internet where Wi-Fi isn't available. The app, which works on smart phones and tablets, finds the nearest Boingo-compatible wireless networks and helps you securely connect to them.
Photo from Sparkloft.