from Warrior Publications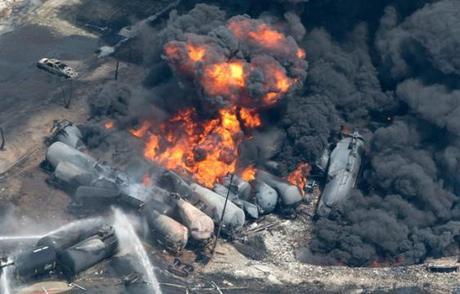 TransCanada is in talks with customers about shipping Canadian crude to the United States by rail as an alternative to its Keystone XL pipeline project that has been mired in political delays, according to company president and CEO Russ Girling.
"We are absolutely considering a rail option," Girling told Reuters on the sidelines of a conference in New York Wednesday. "Our customers have needed to wait for several years, so we're in discussions now with them over the rail option."
The comments are the first to confirm growing speculation that TransCanada might use more costly and controversial railway shipments as a stopgap alternative to the Keystone XL pipeline, whose approval has been delayed by the U.S. government.
Girling said the firm was exploring shipping crude by rail from Hardisty in Canada, the main storage and pipeline hub, to Steele City, Neb., where it would flow into an existing pipeline to the Gulf refining hub.
5-year wait
TransCanada has waited more than five years for the Obama administration to make a decision on the $5.4-billion project, which would carry up to 830,000 barrels per day of crude from the oilsands of northern Alberta to the U.S. Gulf Coast.
While the project has received a mostly favourable environmental report, the State Department last month delayed a decision beyond the mid-term elections in November while a legal dispute over the line's route in Nebraska is settled.
The pipeline has drawn sharp criticism from environmental groups who say it will fuel more production of Canada's energy-intensive oilsands.
But the oil-by-rail movement has also come under scrutiny after a series of explosive derailments, including the one in Lac-Megantic, Que., last summer that killed 47.
Opposition fueling opportunity
"It's an irony that the adamant opposition of environmental organizations and others against oilsands-derived crude have actually created a phenomenal opportunity for rail to pick up the slack," said David McColl, an analyst at Morningstar, Inc.
The line has the backing of the Canadian government and conservative Prime Minister Stephen Harper called the project "a no-brainer." Canada is counting on new export lines to boost discounted oil prices in the country and accommodate rising production from the oilsands.
Demand to ship crude by rail has gathered pace in Canada as producers scramble for alternatives to congested export pipelines.
Canadian crude-by-rail exports jumped to 146,047 bpd in the last quarter of 2013, an 83-per cent year-on-year surge, according to the National Energy Board.
Crude-by-rail boom
With Keystone XL and a number of other new pipelines projects mired in regulatory delay and environmental opposition, the crude-by-rail boom shows little sign of slowing.
Jarrett Zielinski, chief executive officer of TORQ Transloading — which is building Canada's largest unit train terminal in Kerrobert, Sask., said TransCanada would need to load at least roughly nine unit trains per day to rival the takeaway capacity of Keystone XL, if they were to load raw bitumen.
Zielinski said that much extra crude traveling on Canada's rails, in addition to the new rail loading projects already underway, could strain the system.
"The rail network would need more infrastructure and people," he said. "It's my fear that the current rail infrastructure would be insufficient, although it could be scaled up quickly."
CAPP reaction
The president of the Canadian Association of Petroleum Producers (CAPP) says using rail is a good stopgap measure until the Keystone XL pipeline is approved.
"We expect to see pipeline growth, but rail is important in the near term," said Dave Collyer.
He says CAPP will release its production and transportation outlook for the year next month.
"What it will show is rail is an important interim transportation solution to accommodate the growth and production we foresee," Collyer said.
He says pipelines are still the best in the long term, but until that happens he says rail is a choice that must be considered.