from Climate Progress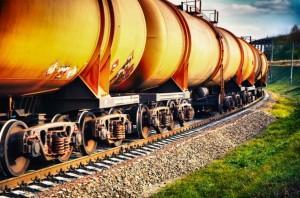 Credit: Shutterstock
12,000 gallons of crude oil leaked from a Canadian Pacific Railway train on Monday in Minnesota, dribbling oil along the tracks for 68 miles, according to local media reports.
Officials at the Minnesota Pollution Control Agency said Tuesday they would investigate the cause of the spill, but said no major cleanup effort was planned because of its relatively small size (one single tanker car carries 26,000 gallons) and the way that it happened: the tanker carrying the oil didn't derail and leak all in one place, rather oil gradually splattered out of the car between the rails onto the track bed as the train was moving. The leak, according to the Star-Tribune, was traced to a valve or cap problem.
"It's like it spray-painted oil," MPCA spokesperson Cathy Rofshus told the Leader-Telegram. There were no reported pools of oil, Rofshus added, saying the agency would continue to monitor the area's conditions.
Concerns about the safety of transporting crude by rail have ballooned in the last year, most infamously characterized by the deadly derailment in Lac-Mégantic, Quebec this past summer. The derailment caused a 1.5 million gallon oil spill, and an explosion which killed 47 people. Federal regulators recently reported that more oil has spilled from rail cars in 2013 than in the last four decades combined, which is in line with how much the practice itself has increased.