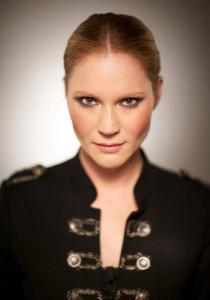 True Blood's favorite Fangtasia waitress, Ginger, otherwise known as the lovely Tara Buck is in a new film called K-11. It is a riveting drama that deals with the politics of race and gender-identity in the Los Angeles County Men's Central Jail.
The film follows Raymond Saxx Jr. (Goran Visnjic), a powerful record producer who wakes from a drug-induced blackout to find himself locked up and classified "K-11." Plunged into a nightmarish world ruled by a transsexual diva named Mousey (Kate del Castillo), Raymond is truly a fish out of water. Complicating matters are a troubled young transgender named Butterfly (Portia Doubleday), a predatory child molester (Tommy 'Tiny' Lister) and the ruthless Sheriff's Deputy, Lt. Johnson (D.B. Sweeney). Ray's struggle to contact the outside world and regain his freedom seems impossible, but he must learn to navigate this new power structure if he is ever going survive and be in control of his life again.
The trailer for her new film is below: The movie sports a tour de force cast that includes Goran Visnjic (Beginners; The Girl with the Dragon Tattoo), Kate del Castillo (La Reina del Sur), Portia Doubleday (Youth in Revolt), D.B. Sweeney (Hard Ball), Jason Mewes (Clerks), Tommy 'Tiny' Lister (The Dark Knight), Tara Buck (True Blood; Justified) and Cameron Stewart in his feature film debut.
 

Learn more by going to the film's site: k11themovie.com