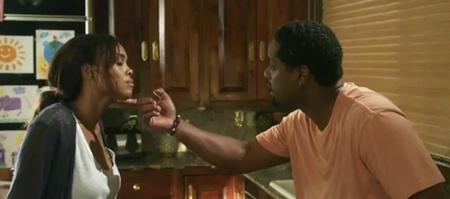 Blair Underwood, Nicole Beharie, Pam Grier, Sharon Leal and Nicoye Banks star in the Codeblack Entertainment feature 'Woman Thou Art Loosed on the 7th Day'.
Directed by Neema Barnette , the same director behind the first film, starring Kimberly Elise, '7th Day' focuses on a husband (Underwood) and wife (Leal) who find themselves in the midst of a crisis after their young daughter is kidnapped. The couple must race against time to find their child, who is believed to have been abducted by a serial killer that symbolically murders his victims 'On the 7th Day.' During their desperate search, a series of deep, dark, damaging secrets unveil a troubling past, putting the marriage and their futures in jeopardy.
Woman Thou Art Loosed!: On the 7th Day is the second project in T.D. Jakes' eponymous "Woman Thou Art Loosed!" franchise. The film will be released on April 13, 2012 in select AMC independent™ locations nationwide.