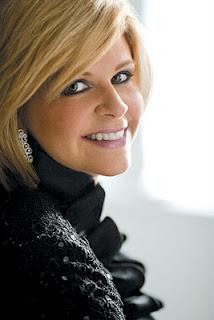 The recital which Susan Graham brought to Carnegie Hall last night united a wide variety of moods and musical styles around famous female figures from literature, and a few literary females. From Purcell to Poulenc and beyond, Graham gave vivid life to the personae of the songs. With beautiful legato phrasing and dynamic control, she created a series of emotionally rich portraits, with Malcolm Martineau as her worthy partner. Purcell's "Tell me, some pitying angel," set to the text of seventeenth-century Anglo-Irish poet Nahum Tate, is a richly imagined monolog for the Virgin Mary. Based on the episode where her son, at the age of twelve, is lost (to her) for days in the crowds of Jerusalem, this text has Mary, with some bitterness, meditating on the contrast of this desperate human problem with the grace she had been promised. There is no general rejoicing now, and no angel responds to her cry. Purcell's magnificent musical architecture, and Graham's directness, both in fierce outcry ("Gabriel! Gabriel! He comes not") and interior reflection ("I trust the God; but oh! I fear the child") saved it from religious sentimentality.
Berlioz' La mort d'Ophélie takes as its text the scene depicted by countless pre-Raphaelites: the madness and death of Ophelia, who drowns, singing, amid her flowers. Here, even as Gertrude (the narrator) seems to seek to evade horror in description, the piano creates an eerie and uneasy atmosphere, with harmonies plaintively unresolved. Ophelia's own melody is echoed by singer and piano in turns, until it dies into silence. After this second extended scene, we were given a set created from the Mignon-inspired melodies of six composers (making me think I really should try Wilhelm Meisters Lehrjahre again.) First, Schubert's "Heiss mich nicht reden," a Lied the apparent simplicity of which belies its haunting beauty. From Schumann's 
Lieder und Gesänge aus Wilhelm Meister
was taken one of the less frequently excerpted songs, "So lasst mich scheinen," which Martineau and Graham handled with admirable delicacy. This restraint was also very welcome in the selections by Liszt ("Kennst du das Land") and Tchaikovsky ("None but the lonely heart.") Graham did full justice to the extravagant sensuality of the former, and the romantic melancholy of the latter, but rather through expressive phrasing and vocal coloration than overt theatricality. The set concluded with two contrasting settings of the same text, Duparc's wistful "Romance de Mignon" and Hugo Wolf's tempestuous, intense "Kennst du das Land." It is to Graham's credit that she explored so effectively the range of possible moods and meanings within the enigmatic verse.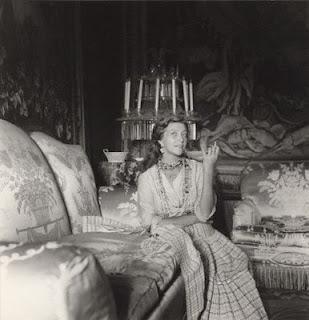 Louise de Vilmorin (photograph by Cecil Beaton, 1940)
After the interval, Graham (after handling very gracefully the unexpected phenomenon of catcalls from the audience) gave
Lady Macbeth
, a chilling setting of that (in)famous lady's monologues by Austrian-English composer Joseph Horovitz. The piece was unfamiliar to me, but I was very impressed by the richness of its textures and expressive phrasing. Both Graham and Martineau made us feel its horror, and Graham did credit to both the beauty and the brutality of Shakespeare's language (never an easy task!) Next we were given Poulenc's 
Fiançailles pour rire,
a cycle set to the poetry of Louise de Vilmorin
.
De Vilmorin's own amorous histories could be the matter for a novel, or several; the six poems used in the cycle ranged from the witty, even sly ("La Dame d'André") to the deeply felt elegy "Dans l'herbe," with a pervasive sensuality, whether playful ("Il vole,") surreal ("Mon cadavre est doux comme un gant,") challengingly frank ("Violon,") or quietly enraptured ("Fleurs.") Graham, supported by Martineau, explored these emotional nuances with a sure touch, combining directness and subtlety.
Following several deep breaths (on my part, at least) Graham transitioned into her "selections to be announced," beginning with "J'ai deux amants" from Messager's
L'amour masqué
. This displayed both Graham's excellent French and her generous sense of humor. This gem was followed up with Cole Porter's whimsical "The Physician" and Vernon Duke's sentimental ballad "Ages Ago." Graham gave them both with elegance and a light touch. Next, to everyone's delight, was a song written for (and, tongue-in-cheek, about) Graham by Ben Moore. With comic flair and mock-defiance of her trouser-role typecasting, Graham proclaimed "
(I can be a) Sexy Lady
." I'd argue, of course, that this is true even or especially in trousers, but the jokes were fun. More mezzos in Handel, please! I was gratified both by the generosity of Graham and Martineau in giving encores, and by the fact that they didn't give them as a matter of course. What the very enthusiastic audience did get was, first, Reynaldo Hahn's exquisite "
À Chloris
" (Graham identified it as a favorite of hers) and the amiably satirical "The Boy From..." by Mary Rodgers, to lyrics by Sondheim. The evening as a whole was a greater pleasure than I had anticipated, with Graham's technical accomplishment and directness of communication making for an engaging recital, with musical discoveries and rediscoveries along the way.