TAKEAWAY: In Norway, working with the team of TradeWinds, the shipping industry's global weekly: planning a compass to rethink how all those stories about the business of ships and shipping can be more appealing.  Also, romancing the ships that bring back the memories, good and bad.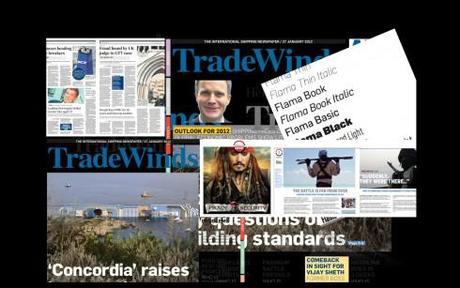 TradeWinds, the weekly journal of the shipping industry, gets a total rethinking, for anticipated launch in June

It is Oslo this week for me, always a welcoming city, beautiful Scandinavian capital by the sea, with breathtaking views and great food.
My work here is for a rethink of TradeWinds, the weekly journal of the global shipping industry.  In this week's edition, TradeWinds' editors are happy to proclaim that "it is selling more than twice as many copies and inclusive online subscriptions as its nearest rival."
The good news is that circulation for TradeWinds is up more than 100 subscriptions from the same time last year.  TradeWinds' biggest competitor is Lloyd's List.
As readers of this blog may recall, we at Garcia Media also worked with TradeWinds' sister publication, Upstream, in a similar rethink across platforms that was launched in 2011. Upstream is the weekly journal of the oil industry. Do check out the online edition, which has launched recently, months after the print edition. It is the work of Mario Garcia Jr.
Our work with TradeWinds is similar, and always challenging to rethink a publication that is so focused on one topic and one very targeted audience.  Just imagine what it is like to bring visual content and contrast to page after page of images of ships.  For the visual journalist, there is also the challenge of presenting stories that relate many important facts and numbers in an interesting way.
That has been our workshop content here, working with TradeWinds editor, Julian Bray, and our Garcia Media designer/art director for the project, Robert Macli, who is based in Oslo.

Perhaps there are lessons here for those who publish daily general newspapers.  When one is creating a highly focused and targeted publication, we already begin with the notion that there is high interest in the material.  This is an advantage for the editors, as opposed to the editor of the general interest newspaper, who must seduce at every step, not knowing where the interest of the audience lies.
Julian Bray, editor of TradeWinds, on editing trade journals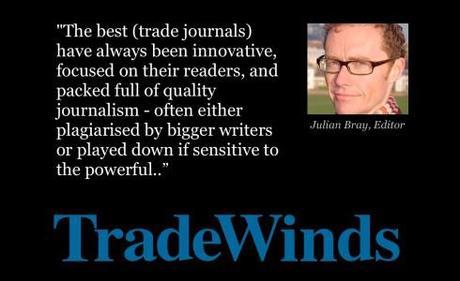 "Trade and business journals used to be seen as something of a professional backwater, at times for good reason. But the best have always been innovative, focused on their readers, and packed full of quality journalism - often either plagiarised by bigger writers or played down if sensitive to the powerful.
"But the world has changed. Perhaps most significantly, the subscription business model championed by the business press for decades works if the content is good enough. It is something the mainstream media is belatedly being forced to accept after a decade or more of 'free'.
"Fresh challenges emerge everyday, however. The ever-quickening pace of business and news, the need for acute relevance balanced with perspective and colour, and the pressure to adapt quickly to fresh appetities, changing commercial demands and new technology platforms.
Design strategies for the weekly trade journal
As for design strategies, I always begin by creating a very precise set of story structures.
TradeWinds has more text than images, and very good stories that are widely anticipated by its readers.  We have created a series of four story structures here:
-A lead story
-A secondary story
-Compact stories
 -Briefs.
In addition, we have created a set of secondary readings that allow the editors to highlight numbers, quotes, background information.
These are going to be the visual tools, in the absence of exciting photos.
The rethinking of TradeWinds also involves content organization and content flow, and training for the team on how to think stories visually, not an easy task when so many of the stories, while important and timely, tend to be technical and business-oriented.
Famous boats in the news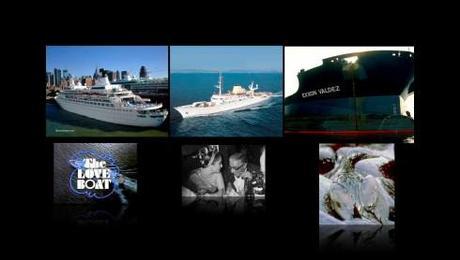 A tale of three ships: Pacific Princess, the Christina O, the Exxon Valdez. Photo credits: Pacific Princess,
http://www.beyondships.com; Christina O, http://www.christinaoyacht.wordpress.com;Exxon Valdez,
http://www.alaska-in-pictures.com
Alas, but it is not all technical stories and numbers in TradeWinds.
I found three stories that make ships come alive in a second.
For example, there it was, on page 26, tucked in the back of all the real news of the week, a story that stopped me, with a headline that reads: It's the End of the Road for TV's Love Boat.
Indeed, the Pacific Princess, the boat that was the star of the famous American TV series, The Love Boat, is now being retired after 30 years of stardom. It will end up in a scrap yard in Turkey.  Not much love there, we assume.
The original Pacific Princess sailed for Princess Cruises until it was sold in 2002 . After a post-Princess stint in South America, the ship was supposed to spend its golden years sailing the Mediterranean for a Spanish company. But the new owners never paid for much-needed repairs and refurbishment undertaken by a shipyard in Genoa—home of our friends at Il Secolo XIX—, and the ship was laid up.
According to the TradeWinds story: "Both the show and the ship have been largely credited for building the cruise industry into the mass market success story it is today."
Well, the cruise industry itself needs tons of Love Boat-style marketing these days, with cruise disasters making the front pages often.  Think the Costa Concordia's recent on the rocks drama, illnesses aboard other ships, and only this week, a
%0A">
%0A">
%0A">
%0A" title="Vietnamese luxury">Vietnamese luxury cruise ship collided in deep fog with a container ship off Vietnam, punching a hole in the container ship and knocking passengers off their feet.
Bring back The Love Boat soon, even in reruns! That seems to be the cry of exasperated travel agents worldwide.
The Christina O

Also on page 26, what the editor calls the People and Gossip page of TradeWinds, and a fun one , if you ask me, another story that brings back the memories.
Perhaps one of the most famous yachts of all time, Aristotle Onassis' the Christina O, ties up at Canary Wharf in London where it will remain berthed as an exclusive dining and hospitality venue until after the Olympic Games this summer.
Want to have a dinner party there? It's available for a price, of course.
The price will probably be quite high, considering that this yacht was the playground of the world's most famous and richest in the 1950s, the golden era of Hollywood.
According to a Telegraph article, the Christina O had the most exclusive bar in the world, and "it was a discreet rendezvous where Monroe laughed, Garbo glowered and Churchill savoured fine brandies."
Also, where Maria Callas sang,  as did Frank Sinatra, and where Grace Kelly and Elizabeth Taylor captivated with their beauty, while their famous and rich host,Ari, smiled.
For the star struck, a chance to put their feet on the boards of this yacht where so many of the brightest—-and also some of the most tragic—-stars set foot in their glory days.
Quite fit for a Greek yacht, of course.
The Exxon Valdez
The Exxon Valdez

Just like there is an obituary written for the Pacific Princess (Love Boat), there is a much longer and sadder one dedicated to the Exxon Valdez, one of the most infamous vessels in the history of the shipping industry, which has finally reached the end of its life, it appears.
For those who may not remember, the Exxon Valdez grounded on Bligh Reef and spilled oil into the waters of Prince William Sound in 1989.
Now the Exxon Valdez is headed for an an Indian scrap yard. It will be the final voyage of the news making ship, and we don't anticipate a lot of tears over its demise.
The sea is full of stories
"And as for TradeWinds there is shipping and the sea. As a veteran Reuters colleague once told me, 'All of human life is there': Billionaire magnates and sharp-suited rogues; human tragedy and engineering triumph; food and fuel for the world. It's all about money and ships, and that's enough for any good journalist and their readers."says TradeWinds editor, Julian Bray.
Perhaps the new TradeWinds, which is rethinking content flow and organization, will find better and more prominent spaces for such stories. That's our goal as we conduct another series of workshops leading to the summer launch of the new TradeWinds.
Forget Thomas the Train, the boys want a ship
Appropriate to this conversation about the world of ships today.  As readers of this blog know, my 4-year-old grandson, Frankie, has been one of Thomas the Train's most devoted fans.
Trains everywhere. Tracks in every room of the house (including his and mine).  But, alas, ever since the Costa Concordia hit the rocks and was seen for days lying on its side, boys the age of Frankie have become fascinated with boats.
When I was home the past two weeks, Frankie wanted nothing to do with Thomas, and everything to do with ships—-he calls them all Titanic, not a good thing.
"Fill the bathtub with water, Abo, and we play Titanic," he would say to me after school each day. And, I, of course, proceeded to do that. Sometimes I made paper boats and floated them into the tub, the name Titanic on the side"  And after that, we would turn to YouTube and see every possible Titanic-titled clip.
Who knows? Frankie may be among the future readers of TradeWinds.
But today I just thought that I may start showing him reruns of The Love Boat.
Happier endings than the Titanic.
Previous Frankie blog posts
http://www.garciamedia.com/blog/articles/40_years_40_lessons_13_dreams
http://garciamedia.com/blog/articles/that_elusive_total_digital_disconnect/
http://garciamedia.com/blog/articles/magazine_apps_need_more_of_the_tablet_rich_experience—-not_less/
For previous blogs on Upstream:
http://garciamedia.com/blog/articles/upstream_a_rethinking_for_the_newspaper_of_the_oil_and_energy_industry
http://garciamedia.com/blog/articles/breaking_news_and_the_people_in_the_central_square/
Of interest today

Apple May Sell Up to 66 Million iPads This Year
http://www.forbes.com/sites/connieguglielmo/2012/03/20/apple-may-sells-up-to-66-million-ipads-this-year/?partner=yahootix

First paragraph:
Apple's announcement yesterday that it had sold 3 million iPads in its opening weekend — the best ever launch of the tablet, according to the company — is so much better than analysts expected that a few have raised their estimates for shipments this year.
TheMarioBlog post #974