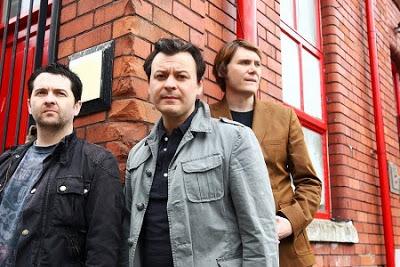 The 11th Manics LP 'Rewind The Film' is an album that proves magic can occur when a band follows its instincts rather than pushing hard for calculated results. It seems a lot less concerned about commercial success previous outings. Mainstream fame? They've been there, done that. Now their reward is the freedom to stay true to themselves and concentrate on their own ambitions, surely more rewarding than any of those platinum discs. Echoes of 2004's 'The Love Of Richard Nixon' can be heard on the brilliantly provocative closer '30 Year War', raging against the Tory "old boy network" against a backdrop of funk bass and punchy drum machine beats. When Bradfield belts out the line about "the endless parade of old Etonian scum", those who naively accuse the Manic Street Preachers of having nothing left to say can go and eat their words.
Today (October 17) in just a short while the Manics will be playing live for BBC 6Music. Tune into Lauren Laverne's show just before 12 noon, and tune into the BBC Red Button channel to see the performance. And if you're reading this in the future, just google "manic street preachers bbc 17 October 2013" or something to that effect, and you should be able to find a "listen again" or even a naughty mp3 recording somewhere. Enjoy.
Read my full review of 'Rewind The Film' (a piece of writing that Nicky Wire himself described as "great"!) HERE.
https://twitter.com/Manics