When your baby reaches the stage where an exersaucer would seem appropriate for play, parents looking to avoid plastics may find this to be a challenge. Many of the exersaucers sold in popular toy stores are completely constructed of plastics and may be lurking with harmful chemicals. Unfortunately, I have not found any wooden form of an exersaucer but there are some other great similar options to keep baby entertained, stimulated, and happy.
Kidco Go-Pod Portable Activity Seat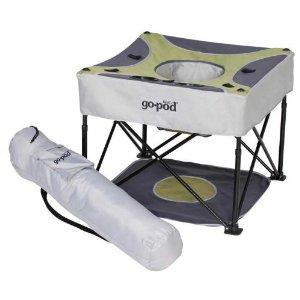 This is one of my favorite alternatives to the bulky, plastic, traditional exersaucer. The Go-Pod can be easily set up as well as folded down for baby's play. All of baby's toys that you already own can be arranged as you choose around the pod and held into place with nylon loops- no pre-selected plastic toys here! It is also an ideal activity center for small spaces or on the go since it easily stores in a carrying bag. Some additional features include:Floor pad - keeps baby's feet from touching undesirable surfacesLocking button - ensures Go-Pod is locked in place and safe for babyFour seat height positions - grows with baby for appropriate leg/feet positioningDrink and snack holders

More Info & Purchase Here:
Leachco Tot Pod Activity Station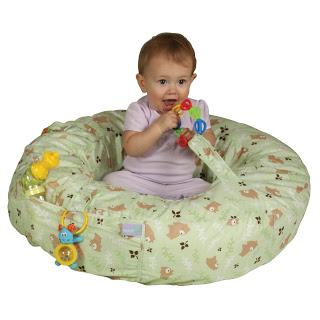 The Leachco Tot Pod Activity Station is another great play-time spot for baby. This activity station features a circular, all around firm cushion with tall sides keeping baby safe during play. It has three velcro tabs for baby's favorite toys or teethers and pockets to keep books or bottles nearby. The cover can be easily removed and washed as well.
More Info & Purchase Here:
Heimess Insects and Flowers Baby Gym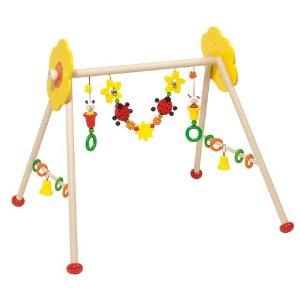 This activity gym for baby is made by German company Heimess and is completely constructed of wood. The bright colored insects and flowers are eye-catching to baby and bells will teach baby cause and effect. Baby can be positioned to sit in his/her boppy and have fun playing with this activity center.
More Info & Purchase Here:
Plan Toys Activity Baby Gym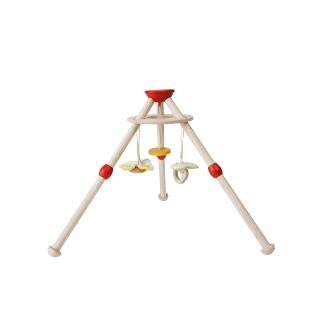 This all wooden and non-toxic activity center features removable toys including a mirror, rattle, and grasping. The design is sturdy to optimize child safety and is made using chemical free, kiln-dried recycled rubberwood. Furthermore, it is designed with water based non-toxic colors as accent. What's even better about this toy is that it comes from a company with a long-term commitment to social programs and helps promotes healthy child development and environmental protection.
Plan Toys also only selects manufacturers utilizing a minimal waste concept.
More Info & Purchase Here:
U42GPT67PGEP