At Toy Fair, I got to experience a craft product called Paper Punk.  What is it?  Well, it's a product that allows you to make fun paper sculptures with no wet glue or hassle!  There are a number of Paper Punk products to choose from including animals, robots, snakes, unicorns, cars, as well as licensed characters like Teenage Mutant Ninja Turtles.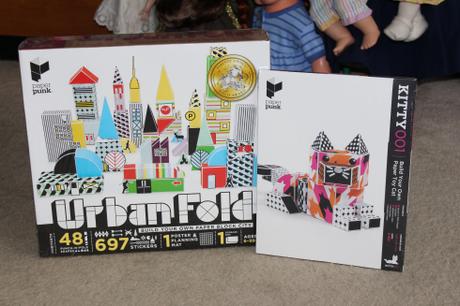 Urban Fold and Kitty001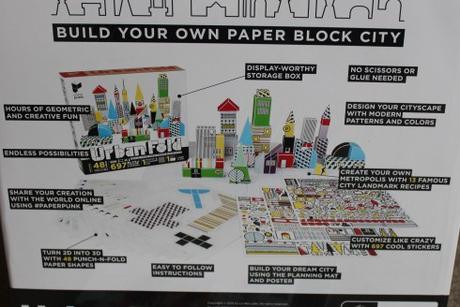 Urban Fold
For review, I received two sets: Kitty001 and Urban Fold. We'll start with the Urban Fold set, which allows you to build your own paper block city.  What drew me to this set was the open ended play element it had.  This set includes 48 punchable, foldable shapes, 697 stickers, 1 poster and planning mat and 1 storage box.  Half the fun of this set is putting the pieces together.  Inside the box you'll have a few pages of perforated cardboard shapes.  Punch them out and follow the numbers– put tab 1 into slot 1, tap 2 into slot 2, etc.  It takes a while to put all 48 shapes together and little kids might not make it through the whole process. This is definitely something you'll want to do as a family.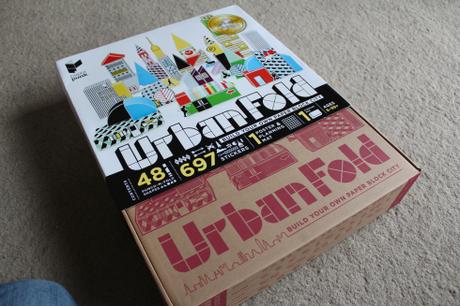 Storage box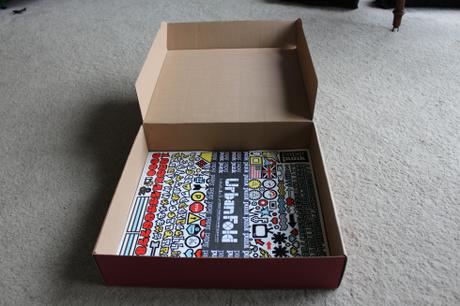 Inside Storage Box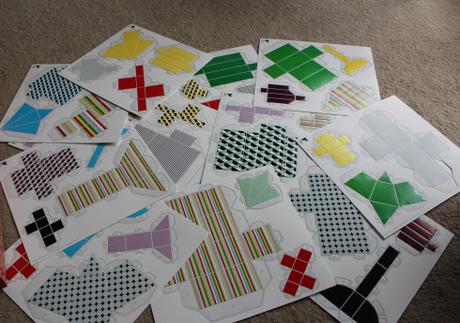 Perforated shapes
After you've built your building blocks, it's time to go to work building your own cardboard city.  Use the blocks to build towers, homes, bridges– whatever you'd like.  Add extra elements, like bikers or buses, by attaching stickers to the blocks.  There is no right or wrong way to play with the Urban Fold kit.
What I like about this particular set is that these easy to fold shapes work well as background elements in photography.  These are sized just right for 1/6th scale dolls like Makies. They are also light enough for jointed dolls to hold without giving their limbs trouble.  For those looking to use this more traditionally, the blocks, while not weighted, do stack relatively well.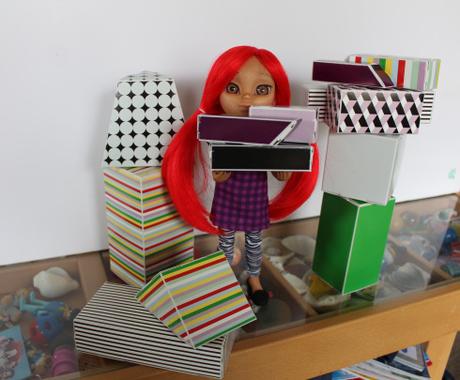 Shapes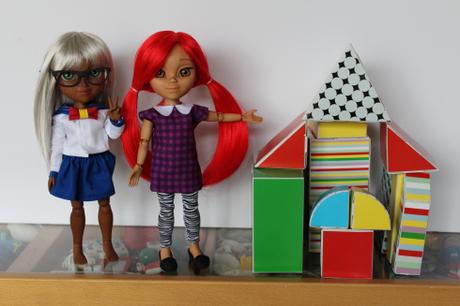 Shapes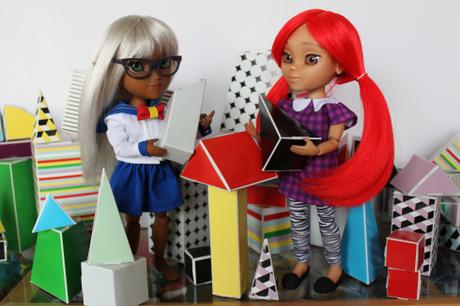 Shapes
The pieces included in this set vary in size and shape.  They are all brightly colored and stay together well. No tape required.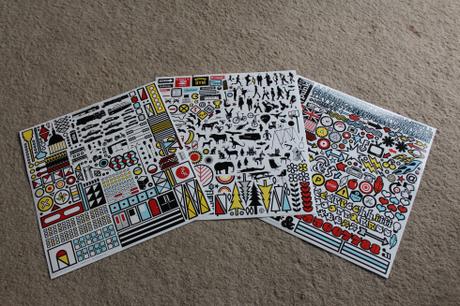 stickers
The stickers packaged with this set are super cute and offer you a wide range of options- from cars to bikers to dinosaurs; A lot can be said using the stickers provided.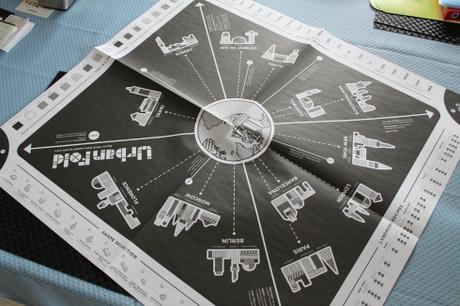 Instructions/Playscape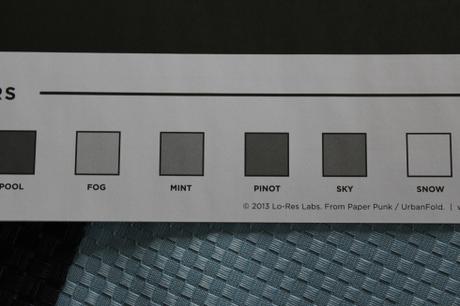 Color Key
The biggest disappointment in this set has to be the black and white instructions.  Doubling as a playscape for your blocks, the instruction side of this oversized document is in black and white.  It features already made patterns for you to create with your blocks that resemble landmarks you may be familiar with around the world (ie: the Duomo in Florence).  Great.  Love the idea.
However, the color key that you use to find the blocks you need is in black and white.  I don't know many 6 year olds who would be able to 'see' blue (sky) on a key that shows it in light grey, if you know what I mean. It would have been easier if they had printed this element in color.  Overall, though, this set is great for those kids who enjoy open ended play.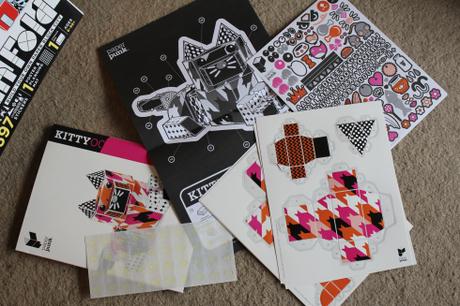 Ktity001
The second product for review was the Kitty001.  The Kitty is more of a display piece.  I think it's really cute! Built from 16 foldable paper shapes, this cat is super colorful.  This set also comes with over 100 stickers and 40 adhesive dots.  Plus, you can reuse the folder the pieces are packaged in for whatever you'd like.
Folding the shapes for the Kitty can get tricky- some are very small. Once they're folded together, follow the instructions provided (again, black and white) and use the glue circles to start making your Kitty.  This set comes with a lot of glue dots, so don't worry about using multiple circles on your pieces.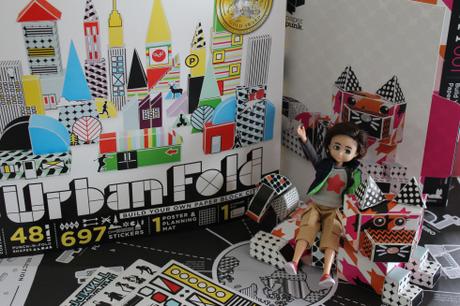 Kitty001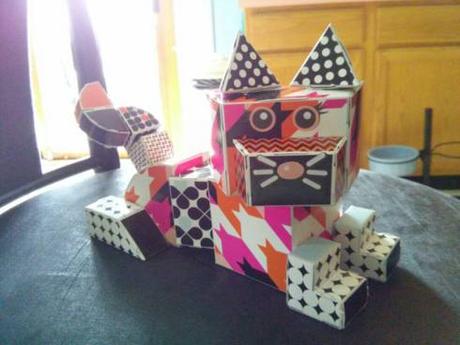 Kitty001
The age range on these two sets is 6 and up and the younger set may need some help in folding and placing the pieces. However, I think these kits would work great as rainy day/vacation projects.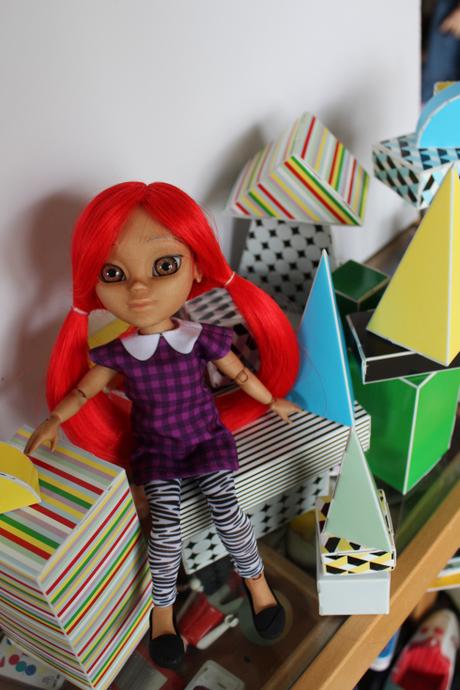 Shapes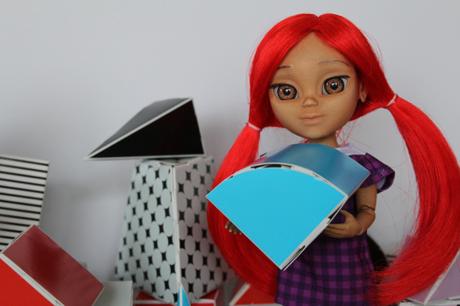 Shapes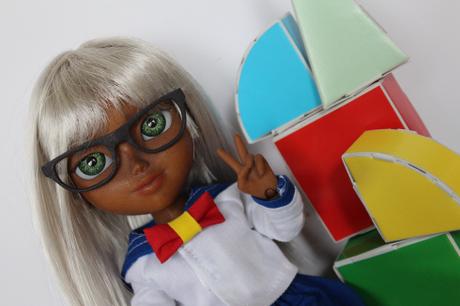 Shapes
Here's the video review:
You can find Paper Punk online, on facebook and on twitter. Do you have a favorite Paper Punk product?  What do you think of this new paper craft toy?  Share your thoughts below.
This product was received for a fair and honest review.  All opinions stated are my own.
May 19, 2015. Tags: review, toy fair, video review. Introductions & Reviews.