Is 70 bucks worth it to get your hands on Black Widow?
Mmmm… hands on Black Widow.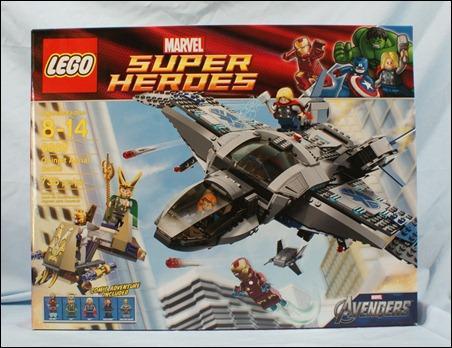 Manufacturer: Lego
Release Date: April 2012
Retail Price: $69.99
I love Lego. I say it loud, I say it proud. I say it softly, I say it with a fair amount of trepidation. I'm what you call "forty-ish". So, you tend to get funny looks from folks as they tuck their children behind them when you say that kinda thing in a public forum.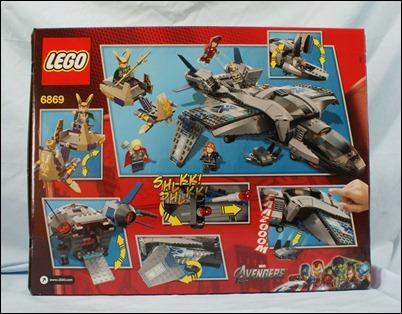 Anyway…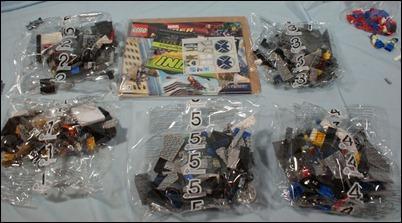 As much as I dig Lego, I really have a hard time shelling out the dough for the bigger sets. My limit seems to be about 40 dollars. Anything more? And I usually don't bother, much to my dismay. 'Cause we all know that the really cool sets are way beyond the 40 dollar threshold.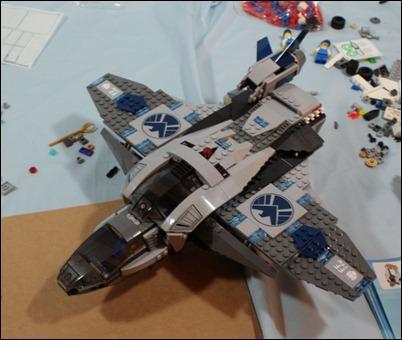 Quinjet in progress
Case in point, The Avengers' Quinjet Aerial Battle. When it was announced earlier in the year, it definitely was one to get. But at a $70 price point? Ugh…no thanks. The Lego gods smiled brightly upon your friendly neighborhood jman, though. And I was able to score it recently at 20 bucks off! Nonono! Don't hate the player. Hate the game. It's still pretty expensive for the set, but, I figured my kids would be fine with only eating 2 meals a day for the week, instead of the "suggested" three.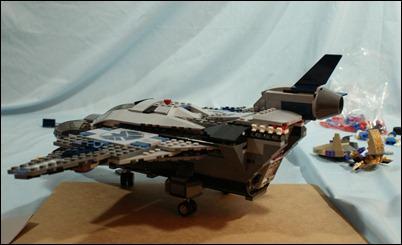 Quinjet in progress
I'm not here to talk deals with you, though. I'm here to talk toys.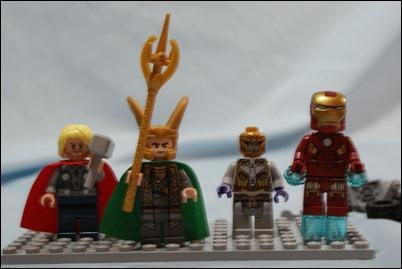 The Quinjet Aerial Battle set comes with a fair amount of mini figs. Included are Iron Man, Thor, Loki, a Chitauri foot soldier and Black Widow, this being the one and only set to feature her. And being the caveman we are genetically hardwired to be, you've got to have the female. Yea yea yea. The jet is cool and all. Big deal. The only reason to plunk down the big bucks for this set is for Black Widow. We all know it. I'm just the only one to have the guts to say it.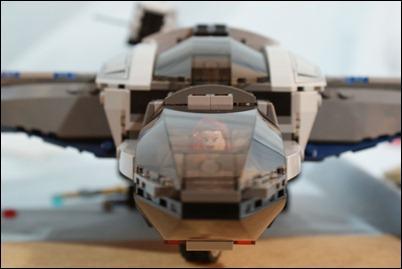 The set comes with a bunch of stickers. I'm not a big fan of putting stickers on Legos. Especially when they cross multiple bricks. But, there isn't any of that going on here, so I'm ok with putting the stickers on.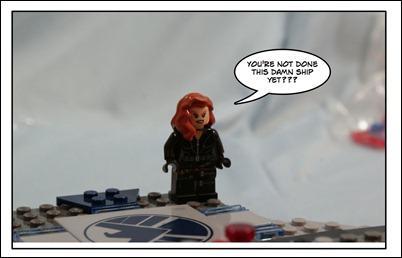 To be honest with you, I don't know how these guys do it. I don't know how Lego designers are able to see something, then make it into a model. It's pretty impressive. And I am more than a little jealous about it. I have trouble putting two bricks together, let alone design a model of a jet that doesn't even exist. The guys deserve medals. Or Nobel Peace prizes. Whichever.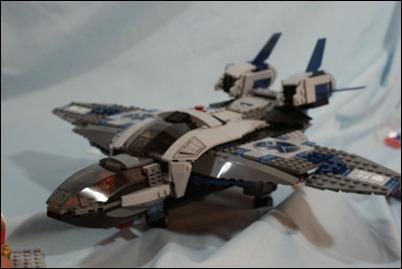 So… long story short, is the set worth it? Heck yea! Even at the $69.99 price point, it's worth it. It's got a fair amount of bricks, it's complicated enough that it won't take you 30 seconds to put together, and it's got Black Widow. Which you know you won't be able to live without.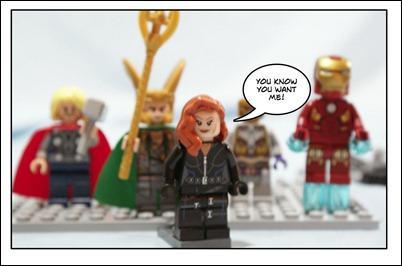 Click here to see "outrageous" "outtakes" at Fadderly.com.
by Fadderly
Just a dude. Telling stories. Raising kids.
Fadderly.com