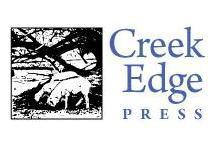 "Montessori-Classical-Charlotte Mason." appears on the 
Creek Edge Press
 logo.
I know what each of these styles consist of, but how in the world do you combine them into one K-8th curriculum?
Author Amy Kate Hilsman says:
"I launched Creek Edge Press last spring, with the goal of providing materials that bridge the Montessori-Classical Mason spectrum and bring these philosophies to life.  I began making task card sets for my oldest daughter when she was entering first grade.  My goal was to build on the Montessori environment she thrived on during her preschool years while using a classical scope and sequence along with the nurturing qualities of Charlotte Mason's approach.  By 2006 I was filling orders for task card sets on a word of mouth, as needed basis.  Creek Edge Press task card sets are currently being used in 32 states and 9 countries.  They are being used by students in home schools, Montessori schools, charter schools, and hybrid schools."
I've never heard of 'Task cards' before.  So, after reading up on this method, I was eager to try it.  Carefully considering my choice from 13 sets ranging from science, history and art, I chose "Geography and Culture" to review with my 3rd, 5th and 8th graders.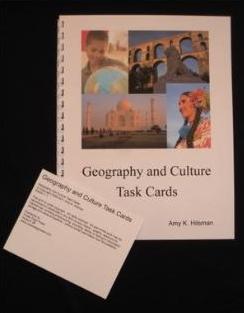 Upon obtaining the teachers' manual, I spent some time reading through the introduction.  There I found sections on how this card set supports Classical, Charlotte Mason and Montessori methods.  It's filled with suggestions for usage - complete with helpful tips, including preparing your environment, which I found very helpful!
"

Each Task Card Set includes a set of Task Cards and an Introduction to the course for the teacher. The cards are designed to engage the student in investigative, discovery based learning. Each card within a set is intended to be used at a pace of about one per week. The tasks direct students to research and explore concepts and vocabulary surrounding a particular topic which is stated on the card. Further key concepts and vocabulary are encountered within the subsequent tasks. The student engages in completing these tasks within an environment specifically prepared by the teacher. The work is done during a work period set aside for Task Card use. The Introduction to the course includes instructions for using the cards, instructions for preparing the learning environment, tips to help you thrive with the Task Card Approach, and lists of books and enrichment materials that can be used to complete he tasks."
Looking over the cards, it seems to me that these would need to be beefed up for upper middle school.  My 8th grader is a straight-forward, very bright student who already has a great grasp of Geography.  So, in our household this didn't fit him well - though it would not be that hard to add activities to the cards.
However, my 3rd and 5th graders' learning styles fit perfectly!
Topics included in this set:  
geography, climate, habitat, religion, literature, and culture.  S
tudents will build a foundation for a literary 'trip' around the world through investigations of maps and globes. They will explore a variety of habitats and the animals that live in them and read about the lives of people in cultures throughout the world. 
Each card in the set is unique, containing a range of activities which cover all 7 continents.
 Example of one of the cards: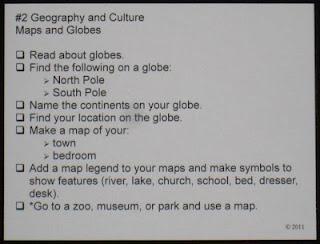 An example of 1 of the 26 cards in the Creek Edge Press Geography deck.
Another card has your child:
*Reading about Asia in a World Atlas
*Stamping their passport
*Labeling political features on a map
*Listing countries and capitals of Asia
*Labeling physical features on a map
*Finding and labeling two rivers in China
*Finding and labeling two islands near Asia
*Listening to music from Asia
*Eating Asian food
*Read literature selections from Asia plus map the book and summarize the reading.
All of Creek Edge Press' materials focus on investigation and the experience of discovery with the long term goal of having the student work directly with the material on their own.
I love the flexibility of these cards and the independence my 2 middle children can have in learning!  What a great tool and curriculum!  Though we didn't get through as many cards as I would have liked, both kids had a great time,  and wanted to continue learning on the different topics per each card!  This will
definitely
be a part of next year's curriculum!!!
This set retails for a very reasonable $18!  Check out other Task Card sets from Creek Edge Press at www.creekedgepress.com.
Here's what other crew members are saying.
I received a Teacher's manual and set of cards free of charge in exchange for an honest review.This post written and property of Homeschool Circus and can be found at: www.upatdawnreadytowork.blogspot.com . If you are reading this from a source other than www.upatdawnreadytowork.blogspot.com you are reading a scraped copy!